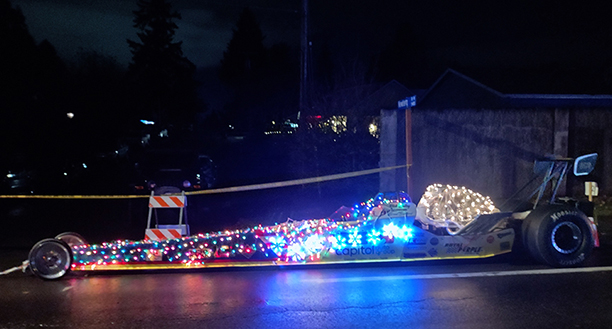 By Rich Bailey
After a near perfect Festival of Lights Holiday Parade in Keizer, a scary gunfire incident took place close to the end of the parade route. When someone unexpectedly starts shooting you are never ready for it. Whether it happens in an office or even in a public place you are almost always slow to react not believing what is taking place around you. You always want to think it's fireworks or something else less threatening.
This time it was my turn to experience what could have been a violent, dangerous, and possibly fatal situation. I had parked our truck and trailer on the corner of Appleblossom and 2nd street while we went in and ate at Abby's Pizza after loading up the car which had just been towed through the annual Christmas time parade. We do this event every year and normally the guy working at the nearby Shell Station lets me park there but not this time. He was the new guy unfamiliar with the Capitol Racing tradition.
After we were done eating I was by myself walking to the truck with a new camera I had just bought when I passed by this small house. All of a sudden I noticed some guys yelling F-bombs and chasing each other around in the yard. At first I thought it might have been drunken horseplay. I kept my head down and kept walking because I didn't want to draw any attention to myself. But I guess my strategy didn't work.
When I reached the rear of my car trailer something hit the back door just ten feet from where I was standing with extreme force! I stood there for a second and thought "what the hell just happened? Are those guys now after me?" I then decided it was best just to get in the truck and get out of there rather than confront them - whoever they were about what just hit my trailer?
As I reached the driverside door I looked over and there were a couple of cars moving around in that same yard, one of the cars was attempting to jump the curb but may have been stuck for a minute trying to get away, and then suddenly four or five gunshots rang out in rapid succession! After a quick shock knowing they already hit my trailer I was fumbling for my keys! I got in the truck and started it up and got out of there, driving down a couple of side streets with the trailer in tow. Thank goodness the truck and trailer was already hooked up when I drove out.
After getting a few blocks away, Susan called me who was riding with Brent at the time to retrieve her car at the start of the parade. Brent's daughter Miranda who was also leaving Abby's Pizza heard the gunshots and called Brent and suggested that they check on me.
A few days later I was sort of in denial that it was a criminal matter. I started thinking that other than my trailer getting hit by something, it may have been a drunk guy shooting a gun in the air. But that wasn't case. The Keizer Police informed me that they found evidence of car part fragments in the street consistent with someone shooting at and hitting a car. And, the impact to the trailer showed it was clearly was not a tennis ball that struck the back door of the trailer but a bullet. Was it intended for me? I do not know but it could have killed me. After all, it struck just 12 feet directly parallel from where I was standing.
This will be a Christmas Parade we will never forget. I went from waving at thousands of people, wishing them a Merry Christmas to possibly getting shot dead in under 2 hours.