Don Garlits' Last Stand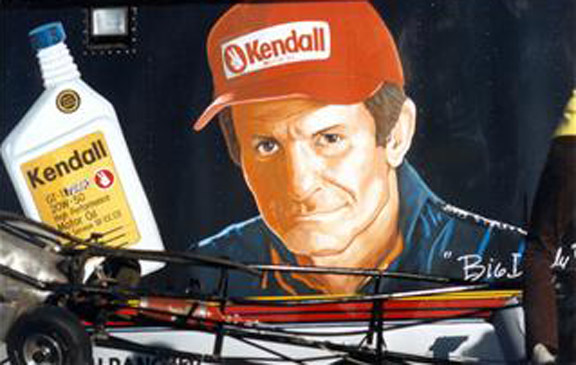 By Rich Bailey
Of all people, I shouldn't glorify the crash of a race car driver. But this crash happened long ago and it was a historically significant event as it ended Don Garlits' last ever championship run. Garlits, had alreay won the NHRA World Championship titles in both 1985 and 1986, and at that time was driving a unique streamliner called Swamp Rat XXX under the Super Shops banner. The XXX car was so innovative that it was inducted into the Smithsonian Institution where it's still on display today. It's rightfully considered one of America's treasures.

The following season Garlits was going for another NHRA World Championships driving a new car similar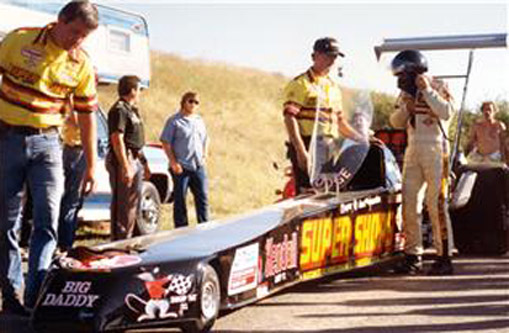 to Swamp Rat XXX, but the new car was a little wider and boxier in the front. Garlits was also traveling in style those days as he replaced his Chaparral trailer with a new black and silver semi complete with his likeness painted on the side of the trailer. Sadly, a Spokane Washington match race in 1987 ended his championship hopes and permanently ended his successful NHRA career. In a blink of an eye drag racing's most legendary figure of all time ended his career in Spokane with a spectacular blow over. This wasn't Indy nor was it Pomona, it was the AHRA World Finals back when the old AHRA had basicly folded and the Spokane track owner continued to hold the race anyway in name only.
I was at Spokane on that fatefull day and as a big Garlits fan, I couldn't wait to see one of my all time heroes in action along with Don "the Snake" Prudhomme, The Greek, and Tom Hoover that were also slated to be there. What an exciting day to walk in the pits on Friaday and see Big Daddy and the Snake on the grounds. At the time, this was the only race featuring Top Fuel cars in the Northwest. Prior to the first nitro session I got to talk to Garlits and asked him some irrelevant question, but he was nice enough to give me a friendly answer.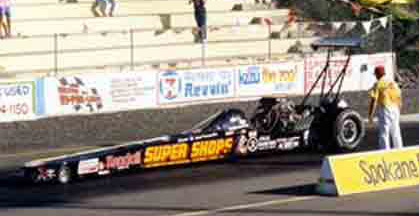 At around noon, Garlits was towed to the line for a check out pass. Since it was Friday, I was able to sneak up to the lanes and get some close up shots of "Big" getting in the car before rushing back to the stands to watch the run. It turned out these shots would be the last ones ever taken of the car. After a good burnout, Garlits was on a good pass when the car went into a wild wheelstand at mid track and then continued to climb into the sky. With its unique black nose high in the air it looked like a giant sea serpent had risen, then the car did a blow over like at Englishtown the year before. This time Garlits wasn't so lucky as the car didn't land on all fours. Infact, the car was completely destroyed when it landed. People were running down the track in hopes that Garlits was alright. Fortunately, he emerged from the wreckage unscathed. Garlits then kicked the car and uttered a few words. The car was put on an old flat bed trailer and paraded back to the pits. There the car sat for an hour before being loaded into the transporter to never be seen again.

An incredible comeback lasting three seasons beginning with a win at Indy in 1984 was over. In this day and age, a back-up car would have been unloaded and Garlits would resume racng, and if not there, at the next event in Indianapolis. But this was Garlits and he built his own cars and likely wouldn't drive another car even if one was offered to him by another team. Instead Garlits went back to Florida and back to the drawing board. While on the sidelines, he built the Don Garlits M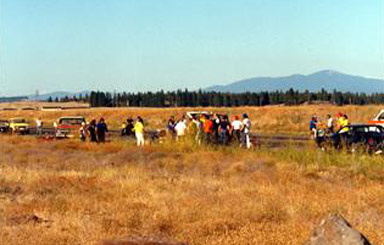 useum, a first of its kind. Sadly, not long after Garlits' blow over, his popular crew chief Herb Parks was ran over by a dragster driven by Rocky Epperly who was backing up after a burnout at a post season race in Florida.

A couple of years passed when Garlits designed his next car: the first mono wing dragster. The car looked like it had a "whale tail" and generated a lot of interest just as his streamliners did. Garlits only raced the mono car on the IHRA circuit as NHRA wouldn't allow a mono-winged car in competition. Then Garlits had eye site problems and all but retired but did run the car with Bruce Larson and Richard Lankston driving it but that was mainly an east coast venture. Since then he ran for a senate seat (and lost) and raced on and off on a few occasions, including driving Gary Clapshaw's Matco Tools sponsored car so he could end his career with a four second, 300 MPH pass at Indy. The venture was successful as their goal had been reached. The pair then chose to team up again at the season ending World Finals at Pomona. However, the car didn't qualify. In 2002, Garlits went on to race a few more events with the goal of driving one of his own cars to a 300 MPH run at under 5 seconds. At Indy, he accomplished that goal and went 4.763/318.54 to become the number 16 qualifier only to be bumped out by Yuichi Oyama on the next pass.
Nobody knows what the future would have held if Garlits had not crashed in Spokane on that hot August day. But, even with the crash Garlits left a legacy that nobody will ever be able top. Not only did he win three NHRA World Championships but he changed the look of the cars and made them a whole lot safer. But everyone knows that story.