I'm sure you can't wait for the movie to come out. Have you seen the completed film yet? And if so, did you watch

it with the Snake (Don Prudhomme)?
Prudhomme and I went up to Hollywood and watched it. The film is finished and I really think people are going to like it. Currently, they are working on the advertising and the PR as well as deciding what markets they are going to show the film in.


Are you satisfied that the movie accurately portrayed you, as well as your relationship with Don?

Alan Paradise wrote the screenplay and then sold it to the movie company. Naturally, the Hollywood people had to changed it because that's what Hollywood does to dramatize it. Prudhomme and I had to battle them a little bit over some of the parts. But overall it came out good and I'm happy with it. Hey, how many people have had a movie made about them?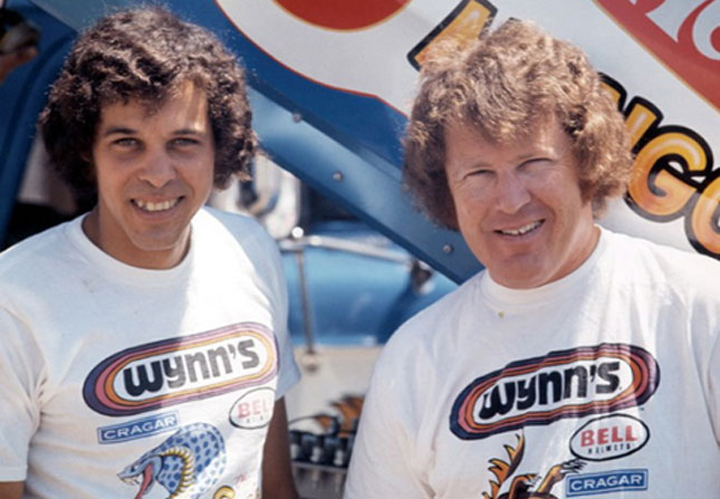 Don the Shake" Prudhomme and Tom "the Mongoose McEwen in the early 70's


This movie is a time period piece. Does the film have the look and feel of the 70's and does it portray how the spor

t was really like back then?
It does considering that most of the shooting was done at Bakersfield. (Famoso Raceway) Once the shooting was completed, the Hollywood special effects people made it look like different tracks. They also used a lot of actual footage. Overall, I think it came out pretty well.


So how did the whole Snake and Mongoose concept get started?

I started racing in 1953 at Sana Anna which is now the John Wayne Airport. We would race every weekend. I was one of the only guys that beat Prudhomme (already nicknamed the Snake because of his quick reaction times on the starting line) in the Greer, Black and Prudhomme car so Ed Donovan nicked named me the Mongoose.
We raced each other throughout the late 60's. And in 1969 I decided to go to Mattel with the idea of them making Snake and Mongoose Hot Wheels cars. I told Prudhomme about my idea and he asked "Why would they even listen to you?" I had some sketches made and brought them to the first meeting and they were interested. They scheduled a second meeting and asked that I bring Prudhomme along. At the third meeting we signed the contract.
After we got our deal with Mattel it completely changed everything in drag racing. NHRA loved it and all of the sudden our competitors started to go out and get major sponsorship deals of their own.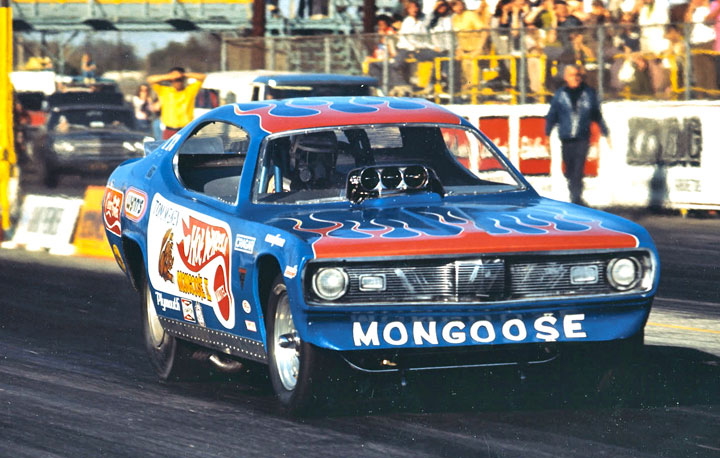 Jim M. White Photo

Was life on the road difficult for you guys?

It was fun at first, we were on TV and it was a big deal but it turned into a lot of work, boy. We would do 3-4 races a week and on top of that a promoter would call up wanting us to be some place else in 20 hours. At first we would balk at it a little bit and then the promoter would say "it's only an inch on the map" so we would go. But we were working, making good money and doing what we wanted to do.
We would go to Boise and then on to Spokane and then head east to the other side of the country to North Carolina. Once we were in Boise and it was snowing. Bill New (the track promoter) said "I need you to just get down the track so I don't have to refund everyone's money". It was so cold that we started the car up without any oil in the motor and then we added it. The slicks would just spin and I slid down the track hoping to get it to the other end safely without sliding off the track or hitting something.
The guy that was really on the road a lot was Tommy Ivo, I would kid him that he never shuts his engine off. Some of the tracks we went to you couldn't see where you were going once it got dark and they maybe used one light or even car head lights to light the track. One track we went to had a creek at the end of it. You just had to make the best of it. We built a trail for the guys today. All of the safety equipment we have now is a result of someone in the past getting hurt. The first time I ever drove Jack Clark's Top Fuel Dragster it was like driving a Cadillac. It was unbelievable compared to the cars I raced before.

Were you and Snake tough competitors on the track and buddies off the track? Or was it intense racing with him most of the time?

We were pretty much buddies but it would get intense on the track. And, when I would beat him he wouldn't talk to me for two months. Him and (Don) Garlits, they didn't want to just win, they wanted to rip your throat out every time. When we got Mattel, Prudhomme and I formed Wildlife Racing and once the Hot Wheels deal had run it's course, we both went our separate ways. But after Mattel we get rival sponsors. I had Coke and he would have Pepsi, I had Coors and he had Miller, he had the Army and I had the Navy.


Other than Don Prudhomme, who were some of your biggest rivals?

There were a lot of them that were hard to beat. Even the local guys were tough. Ed McCulloch was one, Garlits, Steve Carbone, John Mulligan and Tony Nancy to name just a few. There was one event that paid 1,500 silver dollars for the two dragsters with the quickest ETs for the year. It was just one race for all the silver dollars. It was between us and Benny Osborne and I smoked the tires and Osborne won. That was a big deal at the time.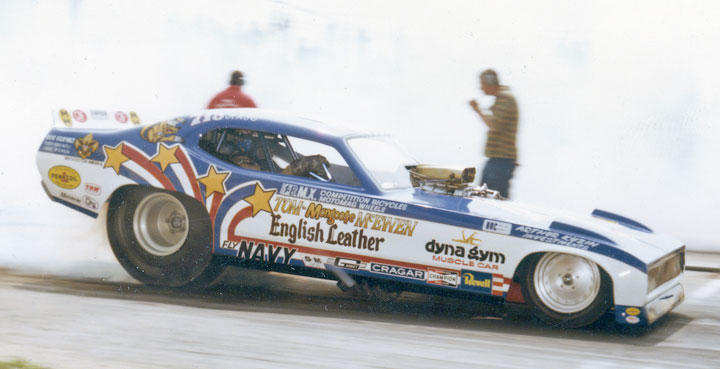 Jim M. White Photo


Besides the Mongoose and the Snake, who in the sport made the most impact in making drag racing a big time

sport?
After we got going, everyone started getting nick names. The nick names were real important so everyone played a role in its growth. Now if you take out John Force who's left?



Your win at Indy in 1978 has to be one of the greatest and most powerful story lines ever written in the history of the sport. There had to be a lot of mixed emotions to even compete at that race. Without giving anything away in the film, did you almost decide not to attend the race after the tragic loss of your son?

What happened at Indy in 1978 was really the underlying story in the movie after they cover the Hot Wheels deal and all that. I wasn't going to go to Indy, I was going to quit. But then Prudhomme talked me into going and Jamie told me on his death bed to go beat the Snake.
At Indy, we got by a couple of people and made it to the final round to face Prudhomme. He was running quicker then us in every round so it would have been difficult to cover him. He had lane choice so I knew he would put us in the bad lane so I decided let's make a gear change and so we went to a 4.30 gear. If everything goes perfect, and nothing ever does in drag racing, then we will at least have a shot and it worked. It was like a fairy-tale ending considering Jamie's death ten days before Indy and my conflicting thoughts. Drag racing fans got to vote on what they though was the greatest race of all time and they selected the 1978 final round of funny car at Indy. And ask any of the writers in our sport and they will tell you the same thing.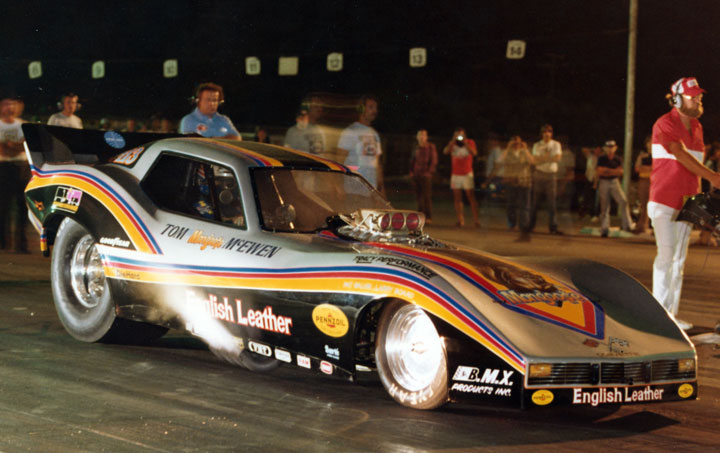 Jim M. White Photo
Let's get into sports marketing for a minute. I was one of those thousands of kids that bugged mom and dad for a Mongoose and Snake Hot Wheels set and got one for Christmas. Did the Mattel deal surpass your expectations of how big it would eventually turn out to be and it's still relevant 40 years later?

Oh, sure it did. Part of it is that we have fifty years of kids playing with these Hot Wheels sets and then becoming parents themselves and then handing down their sets and cars to their kids. Also, Mattel still makes our cars and that helps keep the kids informed of who we are. We also sell books and t-shirts and other stuff that help keep us alive.


What is a racer's greatest asset for ever hoping to attract a sponsor?

Don't give up. Remember, it's not what they can do for you it's what you can do for them. We are in hard financial times and a lot of companies are laying off people. How can you go and ask for a lot of money when they are laying people off? Well that's why you have to offer them something other then sticking their name on the side of your car for a million dollars. Offer to do fifty displays a year. Winning is the frosting on top of the cake, it's all about the exposure that they are looking for.
Visit children's hospitals, schools anything you can think of that will make you look favorable to a sponsor. But be sure to get liability insurance that will cover a sponsor and tell them that first thing in a meeting. I have lost potential deals because the company was worried about liability. If you can go to a company that has someone on the inside that loves the sport that's great and makes it easier. Or, get a lot of smaller sponsors and don't over price it. Do it for almost nothing if you have to. A lot of little sponsors add up.
When I got Coors I set up a deal with a local beer distributor. They gave me some decals and I ran a few races for nothing. The guy at the distributorship took some pictures and some newspaper articles about a race we won and sent them to the company headquarters. At the time, they didn't do sports marketing. The company went ahead and offered to pay for the paint job and uniforms. Before it was over, I had a 2 million dollar deal. And, by that time they were also sponsoring an Indy car. But because of TV we delivered more exposure for the money then the Indy car or any of the other stuff they were sponsoring.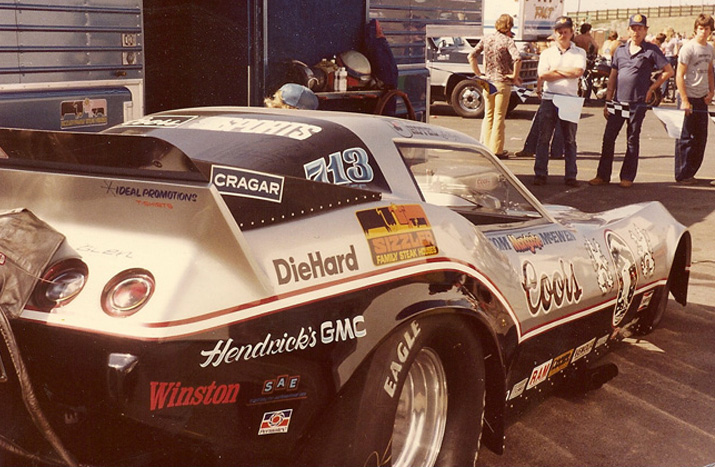 Rich Bailey Photo

Was M

attel a hard sell at a time when there were no non-automotive sponsors?
No, I didn't think so. It wasn't a hard sell at all.
Did your Mattel deal give you enough money to run the car or was it the match racing that paid the bills?

They gave us money for new cars, uniforms and trick new trucks. Mattel by far was where the majority of the money came from but we also hired a marketing company that was handling AJ Foyt. We told them to go out and get us some non-tobacco and non-alcohol sponsors. The marketing company would tell them their logo would be on millions of these hot wheels cars and then they would sign on. That made us another $1,000.000. We would make make 3-4 grand a week from the race schedule. But parts were expensive and we had the pay the crew. But overall it was great.
Revell still puts out model car kits of your race cars and I believe you and Don both have personal service contracts with Mattel. Is there anything in the pipeline as far as more models or Hot Wheel cars?

We each have our own separate contract with Mattel but they are virtually the same and I just renewed mine for another five years. I have a contract with Revell but Prudhomme doesn't but he will soon. I'm in my seventies and I still have to work everyday. Had I invested in mini storage units years ago I would not have to work today but I lived big for a lot of years. But we still get royalties and go to Hot Wheels conventions and sell souvenirs twice a year at Bakersfield so we both keep busy.
Revell currently has two models out. One is of the 1975 Duster and the other is the Top Fuel Dragster.
Woul

d would say that Revell had as much influence on kids as the Hot Wheel cars did?
Not even close. Mattel sells millions of Hot Wheels all over the world. Revell sells plastic models mainly in the United States.
Today, drag racing seems to have gone the way of Indy cars meaning the big names, our Mario's and AJ Foyt's have retired and those that are left are mostly hired guns or pay to play drivers. Do you have any suggestions on what can be done to restore the star power that you, Snake, Garlits and Shirley had?

Age gets you. A lot of the legends are gone. They have died or retired. I drove until I was 55 and then I discovered they wanted younger drivers. We all had nick names but the guys now are just known as 'Bill Jones', nobody has any flair anymore. I told NHRA they need to Jazz these guys up around the microphone.
What was one of the wildest promotions you ever did?

Southern California once had a Wildlife Safari. And I had just bought a rear engine dragster from Garlits. So, I thought it would be a great promotion to get a picture of the car with Cheetahs around it since Cheetahs are known as the fastest animal on earth. When we put the car in their area they were off in the distance. Then the guy that took care of the Cheetahs fed them and they were all the sudden around the car. The guy said go ahead and step closer to the car, they won't do anything. Well as I got closer there was this one bull that stopped me right in my tracks. He was so close I could feel the heat from his breath. That picture got in a lot of magazines.
Pro drag racing shifted from match racing to sponsor dependency with the expectation that cars compete exclusively at NHRA National Events. Do you think it's more difficult to make it as a pro today?



Yes I do. It costs 2-5 million dollars a year to run a fuel funny car or a top fuel dragster now. They also reduced the amount of time between rounds for live TV and so rather than tare down the engine, the teams are having to put in a new engine after every pass. And look at how often they blow up. I predict that NHRA will have to go to an eight car show eventually because there won't be enough drivers able to afford to race. They went to 1,000 feet to reduce costs and to keep them from blowing up, but look at it now the cars are back to going 330 MPH.
These engines are now bombs made with aerospace materials and the crew chiefs can do what ever they want. When I was racing the fuel pumps flowed 15-20 gallons a minute. Now they are flowing 100 gallons a minute and they have extremely high cylinder pressure to make so much power. Garlits said they need to go back to just one mag and eight spark plugs and make it so you can only run one engine in eliminations. NHRA increased the oil down penalties from $1,000 to $3,000 (for multiple oil downs). Chris Karamesines told me he can't afford to oil down the track. Now they have a problem with the bodies flying off the funny cars and what's going to happen when a spectator gets killed by a funny car body that flies into the grandstands?
Ar

e you ever been tempted to bring out nostalgia fuel funny car to actually campaign?
No. People have approached me wanting to race a funny car with my name on it but I have always said no because of liability.
Do yo

u think the future look bright for drag racing?
think it looks good. NHRA has Mello Yello and there is the IHRA and other associations out there just starting up. The only problem I see are the two professional fuel class because it's so expensive, but other than that, the sport as a whole looks good.
F

inally let's give Drag Racer magazine a plug. What do you do for them?
I've been at Drag Racer Magazine for 17 years. Beckett, the people that does baseball cards owns the magazine and our office is right next to John Force's shop in Yorba Linda, CA. We do 70 different magazines a year and we are doing real well. I'm in advertising and I steer the boat.
Tom "The Mongoose" McEwen the Innovator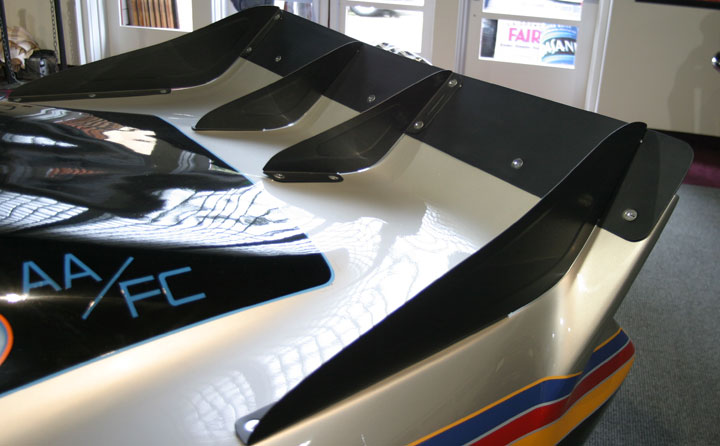 What you may not know about the Mongoose besides being a mastermind marketer is that he's also an innovator. He came up with the spill plates pictured above to stabilize his corvette funny car at a time when other Vette funny cars often crashed. Everyone uses them today. He also developed the face mask drivers wear and he developed the parachute for racing along with the assistance of Bill Simpson.