Garry Fauble's Scream Booked for Winter Show!
The Winter Rod and Speed Show is pleased to announce that Garry Fauble's wild "Screem" 57' Chevy Blown Pro Mod will be one of the featured cars to headine the shown on January 31. The benefit event will be held at the Linn County Expo Center in Albany. This show stopper will be worth the trip! People wanting to exhibit their car can Contact us and we will send you out an application.

A Clarion Call to Blown Alcohol Racers
ATTN: Blown Alcohol Racers I need your input. Would you compete at NHRA events if a new qualified eight car blown alcohol class was established? Contact us and let me know your thoughts!
The time is now for a blown alcohol class at the division level called Pro Comp. This new class that I and others propose would be a heads-up start with a 6.50 ceiling. The class would be only open to BLOWN ALCOHOL CARS period. Dragsters, funny cars, Pro Mods and altereds, sort of like in the old Pro Comp days but without weight minimums or engine size rules. For those of you that may not known the history, back in 1980 NHRA split the original Pro Comp class into Top Alcohol Dragster and Top Alcohol Funny Car. Today, these Top Alcohol classes have gone the way of Top Fuel leaving a lot of teams out in the cold unable to afford to race. One driver in the TA/FC figures he's spending $10,000 per race! I would race Top Alcohol in a minute but the financial gulf between what we are doing now and that class is too great.
On the other side you have blown alcohol cars in the Top Dragster class. The blown folks in Top Dragster now recognize that racing a BLOWN ALCOHOL CAR IN TOP DRAGSTER IS NO LONGER CONDUCIVE for a lot of reasons including: self starting rules, towing back, and the consistantcy in a carburetor car vs a blown alcohol car.
This past weekend I talked to every blown alcohol team in the Top Dragster class that was in Medford and they all agree it's time for a new blown class. Even Bucky Austin is on board with the concept. All but one racer thought it should be heads-up, pro tree, with no handy cap start. The 6.50 ceiling is only in place to keep the costs from getting out of control but there would be no handy cap at the starting line. Runs over 6.50 would not count in qualifying and in eliminations it would be a disqualification.
The result of the new class is beneficial to everyone. For NHRA it will mean the return of some racers currently sitting home. It will also mean some new teams will move up and join the class. For the fans it means an exciting heads-up blown alcohol class where floppers will take on dragsters meaning a better show for the money. And for the blown alcohol racers it gives them an economical class to race in once again where there's an actual chance to win.
Let the carburetor contingent continue to bracket race in Top Dragster and give the blown teams and low-buck Top Alcohol Teams a new-heads up class that the fans would enjoy. Racing a blown car should be all-out racing with no dangerous break tapping or fun and games at the finish line and no handy-cap start. Blown cars should be able to use a blower starter and be towed to and from the pits without any controversies. This class has been on our radar screen for a long time and now is the time to get it done for next year.
In just a few days as requested by the Division Director, Johnathan Adams I will be submitting a list of racers that will support such a class. If you want to be on this list please email me at capitolracing @hotmail.com


Bailey's Medford Blog
I try to write these race reports as a semi-serious news story but lately the capracing.com site has been called a "blog" so I guess I'll blog it this time around. But before I do, just a word of thanks to everyone that cruises over to our web site. This fall I'll keep plugging away with new stories even now that the season is coming to a close.
We had a another great weekend in Medford as the Capitol car ran in the sixes on every pass but one. On the run that it didn't, the shifting chip rattled out of the box, probably due to the vibration from the burnout. As a result the car didn't shift so I got out of it. Other than that the car ran flawlessly and through the first two sessions we qualified number three but moved to number four when Matt Mahoney in Bucky Austin's car moved up one and knocked us down to the number four spot. Speaking of Bucky, he sought us out in the lanes to run us in qualifying. When we staged I looked up and saw Matt was pre-staged so I moved in but it turned out it was a crewman's foot in the beam so I had to get off the converter and wait. We both ran in the sixes and after the run I went over and appologised to Bucky and he was cool about it. I was thinking "sheez I get to run against an icon like Bucky and staged to quickly". But in reality I didn't do anything wrong as the pre-stage light was on at the time I moved in. The nice thing for the Capitol team is that we're running right with them and when you consider their financial resources and Bucky's tuning abilities, that's pretty awsome to be running at that level.
One little incident that occured happened on the final qualifying pass. I couldn't turn in to the wide turnout as my opponent passed it right when I would have needed to turn in. So I had to go to the last turn off at the top of the hill and barely got around the corner and off the track when I ran out of fuel. Meanwhile, at the starting line the starter held our chase truck back so more cars could run. So I was stuck up there. Finally, the crew got up there and was hooking the car up when "the Colonel" comes charging up in his Super Comp-style dragster and cussed up a blue streak as we were blocking the lane. This is just one more reason why the blown cars should be seperated from these carberated Super Comp cars. Many of these Super Comp racers have no patients for the blown teams that take longer to start and need to be towed back. But this situation would have never happened had my crew not been held back at the line for five minutes. Ah, Capitol Racing, loved by the fans hated by Super Comp racers.
Going into eliminations we were qualifed 4th with a 6.89 and met JR Leercamp in the first round. Now, JR races one of those Super Comp styles cars and can run right on the dial. With a blown car we never know what she'll do so we have to annalize all of the runs and make an educated guess based on the current weather. I figured it would run a 6.92 or a 6.93 so I dialed it in at a 6.90 to avoid a break out. I gave her all I could and was closing in on JR but he got the stripe. I ended up running a 6.99, nearly a tenth off the dial and that was more than enough for JR to win.
Regardless of the outcome of the race, the car ran consistantly well and we got beat fair and square. As I climbed out of the car for the last time this season, Brent looked at me and said "it's been a good season, Rich". Yes it has. We've had great success in match racing and the car has not hurt one single part since May. Anytime you can run in the sixes most of the season and not hurt anything you know you're on to something good.
Thanks to Brent and Jerry for all of their help this weekend. Thanks also gose out to Travis and his dad Jack. They always come out and watch us when we come to town. This time around we put Travis, a high school student, to work and he did a great job.
Sacramento Report
The Governor's Cup was a barnburner (on Saturday) and it was well worth our first ever trek to Sacramento Raceway Park. A full house saw ten nostalgia Top Fuel cars, Jet cars, blown alcohol front engine cars, CIFCA funny cars and the Top Eliminator West series. We raced in the Top Eliminator West (TEW) class that was mostly made up of blown alcohol dragsters and funny cars. Some of them could run in the top alcohol class. The rules are simple run as fast as you can but under 6.30 seconds. Only the quickest eight cars get in the show.
Fortunately, we qualified 7th in a very tight eight car field. In fact, I made my best run ever, a 6.76 under the lights, during Friday's opening round! On our second qualifying round we ran a 6.79 in the heat! This set up a first round meeting with the number two qualifier Simon Procopenko who basically races a top alcohol dragster that easily runs in the 6.30's. I jokingly told Simon prior to the first round that it was going to be "David vs. Goliath". We were the under dog but we were there to capitalize on any mistake that our opponent might make.

Unfortunately, it was our team that made the mistake as our air bottle was lower than what the gage read and I couldn't get the car off the starting line after letting go of the button. That will never happen again as we will weigh the bottles from now on. I felt a little better when Simon ripped off a 6.37 so we were at least three tenths too slow, and would not have won no matter how well we would have ran, but I'm sure it would have been a great pass though. The announcer spoke real highly of our car and the fans gave us a nice applause in spite of the problem. We almost got reinstated because it appeared that another car might not make the call in the semifinals but they fixed it in time so that was it.
Regardless of the outcome it was a fun event for us. Our close friends Mark and Sheila Nelson and their son Jake, along with some of their friends came over from the Bay Area to watch us run. Sadly all they got to see was a good burnout but they had a great time regardless. Also, my friend Ron Ward, who has a CIFCA funny car under construction came out and gave us a hand when we were short on help.
As for Top Eliminator West, what a great bunch of racers they are! All the teams are top notch and were very accommodating to us. Most of the teams came over and welcomed us into their association. Right now, we are planning to race with Top Eliminator West twice in Sacramento next season and then possibly a third race in Medford that's now being discussed. Thanks to Curtis and Melanie Clevenger for rolling out the red carpet to Capitol Racing. On the way home we dropped off our trailer in Medford as we will be racing at Champion Raceway this weekend for our final event of the year.

Team Ends Local Season on High Note
The Capitol team had a spectacular weekend at what has turned out to be one of Woodburn's finest annual events, the Fall Classic. The track was good in both lanes as the Capitol car made all four of its runs in 6.80 zone to the delight of a packed house. On both days driver Rich Bailey ran a single in the first round before taking on an opponent in the second round. On Saturday, Bailey had a little better luck getting down the track than Gary Eickman in his nitro burning "Black Pearl " front engine dragster. Eickman hit a slick spot after a funny car oiled down the track and got out of shape as Bailey charged ahead to the finish line. Also, Saturday was the day of our annual sponsor's BBQ. Thanks to Adam's Rib for catering the lunch it was great and it received plenty of compliments by everyone. No pulled pork was left at the end of the day.
In the second stanza on Sunday, Bailey took on another one of his favorite racers, Bernie Rugg, in his incredible 57 Chevy Funny car. Rugg, one of the best leavers around, killed Bailey at the tree but was unable to hold the lead as Bailey nipped him at the stripe in what was nearly a too close to call race. It was one of the most exciting races of the day for the featured cars and the fans loved it.

Great 70'S Funny Car Site Uncovered
Our friend Jim Rockstad will love this, as well as anyone who loved the 1970's Revell Funny Car scene. There's a new web site featuring photos from Portland International Raceway (when it wasn't to loud) and expertly built models. The first section is full of the greatest funny car models ever built and below that is a gallery full of photos from some of PIR's greatest races in the mid-1970's. Go to http://www.riversbendranch.net/ to check it out.

Capitol Car Displayed at Salem Cruise-ins
The Capitol car was on display at two different shows on Labor Day weekend. First, the Capitol car was at the last Friday night Cruise-in of the year at Rock-n-Rogers under the Pink Cadillac sign on Market Street. The cruise -in while small in size had a pretty good crowd. Even Willie Nelson's bus drove right by the parked dragster in route to the fairgrounds.
On Saturday, after being absent for four years, the Capitol car was at one of the biggest car events in Salem, the popular Carousel Cruise. What a great event this was as there were over 200 cars on display. The weather was pleasant and everyone seemed to be in a good spirits. As usual the car generated a lot of interest and we even had Paul Make do some striping on the car while we were there. Thanks to the Willamette Street Rods for inviting us.
Street Masters Named Host Club
The Albany Street Masters will be the host club for the 2009 Winter Rod and Speed Show. Applications are already going out and so far the interest level for the show is high!
Winter Show Expands; Returns Jan. 31
While winter seems like it's a long time from now, it's really just a football season away. And then it will be time for the Second Annual Winter Rod and Speed Show. Last year we received a lot of feed back from patrons asking that we do it again. Not only are we going to do it again, we are expanding the popular car show by relocating it to the main exhibition hall at the Linn County Expo Center in Albany on January 31, 2009. Last year the building that we used was filled to capacity and luckily we didn't have to turn away any entries, but there wasn't any room for one more car. We also had a great crowd especially between 10am and 3pm.
\Even in the bigger building, space is still limited and we want to encourage anyone interested in showing their car to please get their entries in as early as possible. We are getting started earlier this time around so we can get applications in the hands of exhibitors before the outdoor events conclude for the summer. Applications will soon be available online and will also be available this weekend at Rock-n-Rogers Cruise-in this Friday and at the Carousel Cruise, Saturday at Salem's Waterfront Park.
The beneficiaries of the show will be announced here shortly. As always everything we make less expenses goes directly to the people in need. You are a key to the success of this event and just by participating you make a difference in someone's life. Last year's event was a blast and you won't want to miss this year's show wheather you're a spectator or exhibitor. Feel free to Contact us to reserve a space
Click here to see pics from this year's show

Capitol Dragster is "Too Loud" to Compete at Portland's First NHRA National Open!
By Rich Bailey
Since Portland International Raceway was deballed of any spectator oriented drag racing events in 1986 (see stories below) local racing of any interest to spectators was shifted to Woodburn Dragstrip, one of the northwest's finest facilities, located 20 minutes south of Portland. What was left in Portland was Wednesday night bracket races. Finally, after 22 years the Portland track received a noise variance for it's first official "big time" drag race or did they? While the facility did receive a noise variance for the NHRA National Open it wasn't enough to allow for any "big time" cars.
Ads on TV promising "the return of big time drag racing" allegedly showed some images of blown cars. Admittedly, I didn't see those ads but I did see on their web site that they were promising big time drag racing with no explaination of a noise limit. Unfortunately for fans that come out this weekend, after seeing that ad on TV they won't actually see anything much faster than a typical super comp style car, with the one exception being the Fig Speed car with collectors on it, was below the noise limit. On top of all that, all of the racing was limited to just the eighth mile.
The only car on the grounds on Friday that was of the blower and zoomie variety which resembling anything close to a top alcohol dragster was the Capitol car. And sadly our car was too loud to meet the stringent 115 DB noise limit by 3 DB on what was likely the day's quickest run, a 4.45. The options were to either show "some effort" and quiet the car down or put it in the trailer. Since a set of car headers would cost nearly $200.00 and might not remedy the problem the Capitol team packed it up and headed for home. Other racers such as John and George Evans from Canada, who were also to loud did buy a set of car headers but was still to loud for the noise police. However, since they were "making an effort" the track officials said they would work with them.
In addition to the noise, there were other problems that were a concern for any long 270 inch blown alcohol dragster like ours: the road off the track was very narrow and sharp with very little room for a car such as ours to make the turn off of the track. There was also an area where the indy cars would pit, that area was just coned off rather than secured with cement barriers.
One of the pleasant surprises was that the track was very smooth and not bumpy which was contrary to what we had previously heard. And, the pits and main enterence are well landscaped. Also, running at Portland exposed a problem with our electronics which we would not have known about until the Fall Classic. The trip to Portland gave us the perfect place to discover and remedy the glitch while not having to experience the problem in Woodburn.
We certainly appreciate and support what Pete and the PIR staff is trying to do, and hopefully next year they will get the noise variance increased to 120 DB so we don't have this problem. We also believe this might not have been the best race to advertise. All it does is demonstrate to the public just how pathetic the noise limits are in Portland with the absence of a real show that would include alcohol cars, jets and wheelstanders, the stuff that people really want to see.

Too Loud for the Track? Display it Instead!
Capitol Racing went into the Plan B mode when we learned that the dragster was too loud to race in Portland and instead took the car to Albany's Timberlinn Park for the Wa Chang Oregon Air and Art Fair. The event featured a big car show, air show, art fair, fireworks and even a great concert by none other than the Little River Band! The plan couldn't have worked out any better as the car was displayed along a pedestrian area leading up to the entrance of the food and Art area and was just over a knoll from the ampatheater. The reaction to the car was incredible as it generated a lot of interest by nearly everyone that walked by. Even Rick Jones came by! It's possible that there were more people at the Wa Chang Oregon Air and Art Fair than at the race which we were banned from judging by all the people at the concert, but we still would rather had been racing.
Dragster Draws Big Crowds at Airshow
The Capitol Auto Group Dragster is once again a big hit at the Oregon International Airshow in Hillsboro drawing attention from all walks of life. Everyone you can imagine from familys with kids to senior citizens and even a pair of hippies on vacation from from Kalamazoo Michigan stopped by to take a look at the race car which kept the Capitol crew busiy all weekend. Everyone was welcomed. More often than not there was a group of people looking over the car. As always Cap Racing allowed kids to sit in the car and gave away handout cards. More importanly, the team increased its fan base as they do just about every where the car goes.
The three day event started Friday morning with a community kids day (pictured top) where hundreds of kids got to see airplanes and sit in the race car. On Saturday, the event continued with more and more people stopping by to take pictures of the car and ask question. The airshow seems to have a constant group of spectators that also enjoy drag racing or are curious about the sport. Driver Rich Bailey gave demonstrations on what takes place on a quartermile run and the car was even fired up to the delight of the crowd. The Oregon International Air Show is great exposure for all of our sponsors and Capitol Racing appreciates the staff allowing us to be a part of it.

Cap Racing Rocks Packed House in Medford
It was match racing like it should be at the Nitro Summerfest at Champion Raceway. Fuel cars featuring the Mr. Explosive funny car and the Nevada Rattler, Darren Bay's Warp Speed jet, nitro Harleys, Pro Mods, Top Sportsman and yes an incredible best of three PRO COMP show by none other than Sloan Taylor in the UFO Blown Alcohol Funny car and Rich Bailey in the Capitol Rocketeer Dragster. Excuse the pun but it was out of this world.
This was a great one night match race and the fans came out in droves which made promoter, Jim Taylor a very happy man. Through out the day and night fans flocked around the race cars in the pits including the Capitol car where the team was giving out brand new handout cards thanks to our friends at Competition Printing.
In the opening round Bailey out ran Taylor as Taylor got out of shape and headed for the centerline but then got back into it, but to no avail as Bailey took the win with a 7.09. In the second stanza, it was like a top fuel race as Bailey spun the tire and went up in smoke but peddled it enough to get back to full throttle and chase down Taylor who was again out of shape for the win light. In the final round Bailey chose to reduce the air pressure in order to avoid spinning the tires. The idea worked a little to well as the dragster did a big wheelstand! Bailey was able to get the car stable and then went back after Taylor and just barely got by him by a nose at the finish line.
This was match racing like it use to be in the 70's and the fans in the packed stands were on their feet after every round between the dragster and the funny car. Capit ol Racing would like to thank everyone that came out for this great event and Jim Taylor and the entire Champion Raceway staff for rolling out the red carpet for us. Incredible Photos by Larry McFarland!
Feds Put an End to Knoll's Monkey Business
The end of the Evan Knoll era officially came to a close on Wednesday when twenty police officers along with IRS agents from the criminal
investigation division raided the Knoll Gas offices according to a copy written story by the Kalamazoo Gazette. Mr. Knoll, started his racing empire by bailing out one pro stock team but then haphazardly sponsored over 30 professional nitro and alcohol teams, racing events, tracks, and racing series in less then 24 months. Now, Mr. Knoll has suddenly disappeared since the hot water he is in has quickly reached a boiling point.
In addition to serious IRS problems and now federal suits, Mr. Knoll faces at least three lawsuits including one for failing to make payments on a corporate jet, one for selling products in a protected territory, and a third for not fulfilling a monetary agreement with a top fuel team for the 2008 season. That team purchased hundreds of thousands of dollars worth of equipment only to not get paid. The suit claims that Mr. Knoll had no intention of paying the team when the agreement was made. Mr. Knoll also has a partially constructed two million dollar home in Michigan where contractors there have stopped work as Mr. Knoll failed to make payments on construction labor and building materials.
Many insiders knew that Knoll's spending spree was out of control dating back to last fall when his company, Torco Racing Fuels, allegedly failed to make payments to some of the teams they sponsored. Also, it was believed that there was little effort to sell enough Torco, Skull Gear and Skull Shine products nationally to financially support thirty racing teams let alone one touring top fuel team. A question often asked in the pits and on the internet for the last two years was where is Mr. Knoll's money coming from? Nobody quite knows.
In January 2008, Mr. Knoll shocked the drag racing world when he or his board of directors abruptly dropped all race team sponsorships just weeks before the Winternationals but promised to come back "bigger and better" in 2009. The reason given for the sudden departure was Mr. Knoll's health and his company's expansion. Even so, some teams continued to fly the Torco colors until the shock and denial eventually wore off.
Soon after announcing his suspension of race team sponsorship and the eventual dismissal of several prominent executives including Latrell Preston, Mr. Knoll posted a rambling denial that anything was wrong on the nitromater.com website. Mr. Knoll claimed that IRS enquiries are "normal" for a company of his size and that Knoll Gas was a billion dollar company. His rebuttal was laced with profanity, bad grammar, numerous misspellings, and even intimidation to his critics. Sadly, the nitromater post did little to convince critics otherwise, and even alienated more of his one-time supporters.
Mr. Knoll did keep racers and crews that worked directly for him on his "payroll" and claimed to keep all racing association and individual event sponsorships intact through 2008. However, as time went by those obligations were not kept either and those racers and crews on the "payroll" were released. Also, racing equipment personally belonging to Mr. Knoll was seized by Federal authorities. The Torco name also disappeared off track signage and event sponsorship.
Mr. Knoll initially did a lot of good for drag racing and for teams that could not find sponsors, but it got to be to much like the thirsty politician that can never say no regardless of wheather the money is there or not. Just like the "Wizard of Oz" the day finally came when the curtain was pulled and the tycoon with the foomantu pulling the strings was finally exposed. If you see Mr. Knoll this summer and it likely won't be at a dragstrip, please let him know there are some folks wearing suites and ties anxiously waiting his return to Michigan.

Capitol Auto Group Racing joins B.R.A.K.E.S
Rich Bailey driver of the Capitol Auto Group Dragster has joined B.R.A.K.E.S, a youth driver safety program. B.R.A.K.E.S stands for Be Responsible And Keep Everyone Safe. B.R.A.K.E.S was formed this year after a devastating highway crash that claimed the lives of Jon and James Herbert, the sons of Doug and Sonnie Herbert. Doug is the popular driver of the Snap-on Tools Top Fuel Dragster.
Before Bailey began racing he pioneered the Team Safety program. Team Safety grew to 70 members and promoted about 30 events a year until Bailey left the program and joined Race Against Drugs where he won two Presidential Volunteer Awards. "All of the racers and volunteers that were a part of Team Safety really did make a difference. I hope to utilize that energy and give B.R.A.K.E.S a presence here in the Northwest. Even after Team Safety we are often asked to do schools, college driver ed classes and scouting events so partnering under the umbrella of B.R.A.K.E.S will help us give a good presentation" Bailey said. Bailey will also continue to be a spokesman for Race Against Drugs.
There was also another reason why Bailey wanted to get involved as Doug Herbert Racing sent boxes of t-shirts, hats and other items for one of the Night of Fire events that Bailey is involved in each summer. "They unloaded their souvenir trailer and overwhelmed us with merchandise from their race team. I think they still hold the donation record. This is a great way to give a little bit of that back after what they did for us" Bailey said. Bailey encourages other Northwest racers to join B.R.A.K.E.S by going to www.putonthebrakes.com or contact Bailey by clicking on Contact us

The Night of Fire a Major Success
NIGHT OF FIRE ANOTHER BARN BURNER
Many turned out for one of the most entertaining car shows anywhere. Photo by Bill Sullivan

The Night of Fire Benefit Car Show successfully lived up to its name on Friday night, July 18th. The event which had been rescheduled due to rain turned out to be worth the wait as over 140 hot rods and an impressive display of race cars took over the grounds of the Salem Evangelical Church in Salem.
Headlining the show was Richard Smith's War Hawk jet funny car which did an incredible fire show at the conclusion of the event. Also on hand was Rich Bailey's Capitol Auto Group Dragster. Bailey rented out the seat of the blown alcohol dragster to the highest bidder and raised close to $500.00 during fire ups. Tyson Parker's Parker's Electric blown dragster was also in attendance along with late model stock and sprint cars.
The show raised money for a five year old local boy, Bryan Poli who had a bout with cancer. While the Bryan's cancer is thankfully in remission, the family has faced financial challenges as a result of extended hospital stays and treatment. To help with the family's trips to Portland for treatment a car was given to the Poli family thanks to a car donation from Affordable Towing and Macco. Note: If you view the photo section you will see pics of the special presentation when the car was given away.
The Night of Fire fire has raised well over $50,000 for people in the Salem area with cancer or other serious illnesses since it began in 2001.

Special thanks to the car show's sponsors in no particular order: Tom's Trophies, 1430 KYKN Radio, Uptown Music, Competiton Printing, Royal Purple, Image Action Wear, Lancaster Firestone, Adam's Rib, Supervinyl Signs, Affordable Towing, Macco, our venders, and a giant thanks to Richard and Kile from War Hawk Racing for making this the Night of Fire!

MV Mobile Detail Gives Transporter a New Look
When Ryan Valentine approached us about detailing our truck and trailer my thought was that there's nothing he can do that we don't already do when it comes to cleaning up our truck and trailer. I never could be more wrong! When I returned to MV Mobile Detail to pick up the truck and trailer I was stunned on how nice the truck and trailer looked and I got three times the stares as I normally do when I was driving it home on I-5!

All of the nasty white crud that had built up around the diamond plate and the wheels were gone. This was stuff I spent hours trying to get off but was unable to, and now it was completely gone! I've never seen the truck and trailer look more shiney and clean. And the interior? Wow! I felt like I had just bought a new truck from Capitol. It was spotless as all those coffee and pop stains from long trips are now history. Everything inside and out looks new again.

If you a car, truck, trailer, boat, RV, and want to return it to the way it was when you bought it, call Ryan at 503-930-3178 or go to mvdetail.com

Rich Bailey
Capitol Racing

Capitol Car a Home Run at Volcanoes Game
The Capitol Auto Group Dragster along with dirt outlaw cars and ET bracket cars greeted fans as they entered the Volcanoes baseball game on Tuesday evening for Speedway night. All of the cars were fired up prior to game time. The Volcanoes staff took good care of the racers by introducing them onto the field and showing them on the jumbotron between innings. In fact, they played a video of the Capitol car before the game began.

At the end of the fifth inning the Volcanoes announcer Bill Post interviewed driver Rich Bailey. The Volcanoes, an SF Giants Club team played host to the Boise Hawks which is affiliated with the Chicago White Sox. Throughout the evening and even after the game the Capitol race team members were answering questions and allowed some young baseball fans a chance to sit in the dragster. Bailey also signed posters.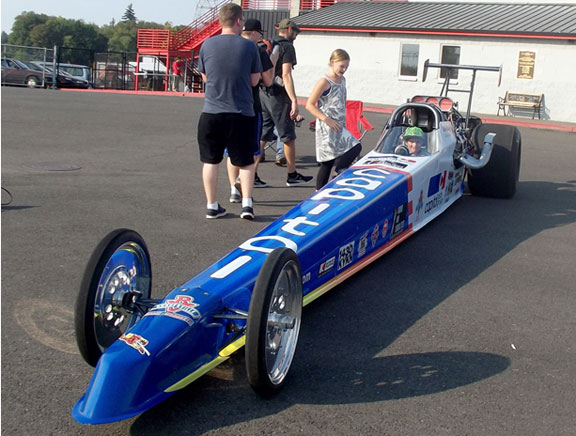 The Capitol team stand with Volcanoes team owner Jerry Walker and Volcanoes event coordinator Jerry Howard. The race team members pictured include Jerry Abbot, Acacia Bailey, Rich Bailey, Brent Sanford and Brian Walburn.

King Engine Bearings Track Report by Rich Bailey
It was Good, Bad and Ugly
It was quite a weekend or was it a week? The NHRA Lucas Oil Drag Racing Series race at Woodburn Dragstrip is our "national event" since they don't run our class at NHRA Powerade National Events like the one next weekend in Seattle. We have been at Woodburn since Wednesday. After all you don't just go to this race, you live it! And we do every year. And each year we discover that a six second blown alcohol car without all the bells and whistles is not all that conducive to the current super comp style cars that are slower and rule the class. But, there's no other class that our car fits into so that's where we're at. It would sure be nice if there was a blown alcohol class (Pro Comp) for 6-second cars, heads-up. I know the fans that have been in short supply recently at these NHRA events and they would love it!
The good was that we qualified 4th out of 46 cars. The bad was that we broke out by four hundredths of a second in the first round as we ran a 6.87 on a 6.90 dial, and the ugly was that yours truly took a short vacation on the starting line. Today, there was no excuse for not being quicker off the line and the competitor got quite an automatic handicap head start anyway. Would I have still broke out? Yep, probably so as I never lift in close races.
There were no moral victories on my end but as a team the car continues to run consistently well in the sixes and we left the track with no mechanical problems that will prevent us from running at the Nitro Summerfest at Medford on Saturday night, August 2. As Clint Thompson summed it up so eloquently, "regardless of how anyone did today, we're all just lucky to be able to go out here drive these hot rods". Amen to that as in the end we represented out sponsors well and had a great time all weekend! Photos by Bill Sullivan and Larry McFarland

Capitol Dragster Qualifies 4th
The Capitol team was finally able to utilize its Art Mendoza horsepower and get into the sixes at the NHRA Lucas Oil Drag Racing Series event held at Woodburn. We went from outside the show all the way to the forth spot with a 6.92 on Saturday. In the final session during the heat of the day, I slowed by 100th of a second while still posting a 6.93 and we remain in the 4th spot going into the final eliminations on Sunday.
Thanks to Brent Sanford, Ken Logan and Brian Walburn for another great job today. I can't stop raving about this crew as we're having alot of fun right now and the car is running great! Also thanks to Jerry Abbott and Ty Abbott for their help as well. And.... thanks and good luck to Ashwell Racing! They helped us with a little project today, and it's great to have them as our good friends!
Friday's Qualifying
If you read our race preview, you might guess why the Capitol car did not qualify on Friday. As always, the NHRA Gremlins were out in force in the Bailey pit at the NHRA Lucas Oil Drag Racing Series event at Woodburn. But lucky for us Brent Sanford caught them before the trouble could have really began to multiply. As we wormed up the engine Brent felt this mist of fuel around the blower manifold and when Ken Logan moderately revved the engine up the mist turned into a spray! Previous experiences led us to believe it was the blower manifold gasket and after a trip into town and back we missed the first session of qualifying for the Top Dragster class.

We installed the new blower gasket and the problem didn't go away. So we looked at the nozzles but ruled that out as the problem. Ken thought that the problem had to be the intake gaskets so Brian Walburn and I made a second trip to Salem only to get caught up in a traffic jam as there was a wreck on I-5. To make a long trip short, after getting the gaskets and returning to the track we missed the second round of qualifying. But you know what? We didn't hurt the engine which was a good possibility as it could have gone lean and cracked a piston had we ignored the problem or have missed it altogether.
After the intake gaskets were installed and the engine was rebuilt from the heads to the injector, we fired up the car back up and the problem was finally fixed. On Saturday, we get two shots to qualify and hopefully we can keep the gremlins at bay for the rest of the weekend. We are very confident the car will qualify well on Saturday.

Capitol Car Booked for Big Air Show
Last year it was a lot of fun as the Capitol car made a big splash in front of large crowds at the Oregon International Air Show, In fact, last year's attendance was over 93,000 people. Last year the car was given a special display area thanks to Doug Donkell and a slightly worri ed air show staff concerned over insurance issues. The car turned out to be a major hit with air show fans and as a result the Capitol team has been invited back for this year's show on August 8-10.
Brent Sanford Now Serving as Car Chief
Brent Sanford has been promoted to Car Chief on the Capitol Auto Group Dragster based on his outstanding performance displayed over the last two months. Brent replaces Rick Stice who is leaving the team to tie up some loose ends before moving to Mexico at the end of August. Brent will work closely with Ken Logan who is the tuner and crew chief on the car.
Team owner Rich Bailey is delighted about how well Brent has progressed in such a short period of time. "At the last event we raced at I noticed a great working relationship between myself, Brent, and crew chief Ken Logan. I have discovered that Brent has the ability necessary to be successful on any team. He has both the mechanical skills and people skills needed on this kind of a race team where good public relation skills are just as important as the racing. He still has a lot to learn but he pays close attention to detail and is one of the best guys to have come along in a long time" Said Bailey.
Bailey and Sanford grew up together and dreamed of the day they would be racing. But like anything else, time and different paths separated the two as they lost track of each other for nearly a decade. Bailey continued to pursue his dream of building a racing team when the two ran into each other. Sanford slowly got involved in the Capitol race team, but it was their last race in Wood burn which was the wake up call and confidence builder Sanford needed. 'I use to be worried I might make a mistake and something would go wrong. Now it's the opposite. I feel like I need to be there so something doesn't go wrong. I look forward to working with Ken and learning as much as I can" Sanford said.
Also, joining Capitol Racing is Brian Walburn. Brian is a great representative for Capitol and it's great to have him now on our team. Brian will do displays and races. He is merried to wife Cheryl and together they maintain the Ridge Top Ranch.
Cap Racing = Exposure for Sponsors
The Capitol car was on display in three locations this past weekend which is great for Capitol and all of our other marketing partners. First, the Capitol car was turning heads on Lancaster as the car was on display from 8-3 at Color Tile. Next the car was transported north to Chemeketa where it was fired up at the Blue Moon. Enjoying a rear moment in the cock pit with the engine screeming out some rrrrrs was none other than Jim Billings who really had a great time.
On Sunday, the car was parked in front of our home away from home, Ace Hardware on Madrona to promote the Night of Fire. It seemed to work as we gave almost all of the fliers we had printed up for the event. Thanks to Matt and everyone at Ace for the warm welcome. They love the car and are the best in town when it comes to great customer service. We go out of our way to shop there first. Thanks to Brent Sanford and the "Condo Cowboy" Brian Washburn for dealing with the heat and making these events possible. What other race car is seen in as many places as the Capitol car?
Two Races, Two Cities, One Weekend, One Win
Russ Parker, arguably one of the best funny car drivers in the Northwest had quite a weekend when he tried to do the impossible: compete in two separate drag racing events happening 200 miles apart at the same time. Most racers would pick one or the other but what's a racer to do when you drive for two separate teams? For Parker, it meant don't let the troops down and go the extra mile, over 1000 of them.

First up, on Friday was qualifying the Bellemeur family owned Top Alcohol funny car at the Lucas Oil Series race in Seattle. While Parker did not qualify for the tough eight car field, he was the first alternate with a respectable 5.77. Fortunately, he was still able to get in the first round of eliminations as another car had broke. But not so fast, there was still a race in Woodburn to qualify for so once qualifying was over in Seattle it was 200 miles the other direction for Woodburn's Oldies But Goodies event.
On Saturday, Parker knew he would have just enough time to qualify in Woodburn and then high tail it back to Seattle for the first round at 3:00 PM. "I knew it was going to be tight so I talked Gene Bergstrom the track manager at Woodburn in to running our class first and then I talked Jonathan Adams, the NHRA Division Director to run the funny cars after the dragsters in Seattle" Parker said. With both parties able to accommodate his request, Parker parked his Subaru at the top end pointing towards Seattle. Fortunately, Parker qualified with a 7.94 and then ripped off his fire suit and hightailed it straight to Seattle. "The most stressful part was the drive back to Seattle" Parker said.
Parker arrived at Pacific Raceways just in time as the cars including his own was being pulled into the lanes. Then the news came down about S cott Kalitta's fatal crash. "Everyone was very emotional" Parker said. In the first round, Parker raced Dennis Taylor, and got a better reaction time, but Taylor got to the stripe first. Meanwhile Parker's chutes didn't deploy and the car went into the safety net at the top end as he was going to fast to make the turn off the track!
Parker was OK in the incident but the car suffered some minor nose damage. Now, with that race out of the way, it's back to Woodburn on Sunday for some unfinished business where Parker had qualified the late Lon Russle's nitro-fueled nostalgia car. Lon had passed away in January so Parker was driving it in his memory for crew chief Darrel Brown. Parker ended up winning the event which was an emotional affair for Lon's wife Pam who was there to witness it. "It was very therapeutic to win for her. And the whole weekend was quite a marathon, but I love a challenge" Parker said.
Cap Racing Hits the Road for Royal Purple
The Capitol did several displays in the Spokane area for Royal Purple Motor Oil. The displays were at NAPA stores. The big event was at the main distribution center on Sunday which attracted about 200 people throughout the event. The weekend prior, the team did a display on Saturday which included a car start up for the National Guard benefit in Brooks OR. On Sunday, the car was on display at Joe's which attracted a steady stream of visitors all day.

Journey's Revelation: Best New Material in Years
Out of no where comes Journey's new CD entitled " Revelation". The new CD is available only at Wal-Mart and might just be the best material this band has put out since 1981's "Escape". That sounds like a stretch until you listen to it. The new CD is great from start to finish and has the perfect mix of both rockers and ballads.
The new CD came at the band's lowest point when they were without a lead singer that could carry on Journey's trademark sound and legacy. Neil Schon and Jonathan Cain had written some new material but had no singer so Schon turned to Youtube and stumbled on to a singer in Manila that seemed to have Steve Perry's unreplaceable pipes. The singer, Arnel Pineda, came to the US and auditioned. The result is a new CD with Journey's restored patented sound that puts them back as not only a legendary band but one that is current too.

In fact, songs such as "Like a Sunshower", "Change for the Better", "Wildest Dream", "Faith in the Heart Land" and "What it Takes to Win" rank right up there as some of Journey's best work in years. Revelation also comes with a rerecorded Journey greatest hits CD sung by Pineda. Also included is a concert DVD all for $11.99. This package is much better than a similar Wal-Mart Eagles package put out last fall that is riddled in the usual Don Henley American guilt. Revelation is just what the music industry has lacked in over a decade. It simply goes back to the basics of arena rock: positive and uplifting songs that sound great.
If you want a feel-good CD for the summer, then Journey's Revelation is a must. Best of all, Salem's Deen Castronovo is back on drums and I'll bet that he's never played on a better studio album as this one since Bad English in 1989.
Capitol's 6.77 Highlights Incredible Weekend!
With a new Capitol paint scheme, a new look crew, and renewed optimism, the Capitol team kicked some serious tail and had an incredible outing at the Smoke and Thunder Drags at Woodburn Dragstrip. Not knowing what to expect initially with questionable weather, the team ended up in the exhibition part of the program and gave the fans their money's worth and more with a string of strong six second runs including their quickest run ever, a 6.77. In fact, the car ran 6.77 on back to back runs! It was a rewarding weekend for a team that worked hard all week in order to make the event. A big thanks to Brent Sanford, Art Mendoza and Ken Logan for their help in getting the Capitol Dragster back in the six second range after a series of mechanical problems and set backs.
Parker and Bailey Give Fans a Great Show on Sunday
On Sunday, the Capitol team had an exhibition race with popular NW funny car racer Russ Parker who was at the wheel of a nostalgia nitro burning dragster. Parker, one of the northwest's best drivers, was at a disadvantage as he had never driven the car before and even though the car charges through at the top end at nearly 200 MPH, the ETs are in the mid seven second range. The Capitol car on the other hand had run a pair of six second runs on Saturday.
In the first round, Bailey was in the left lane as Parker requested the right lane. At the light Parker left on Bailey with a much better reaction time. The advantage that Parker enjoyed didn't last long as Bailey charged by to get the win light with an unreal 6.77 at 198 MPH. Parker also had an impressive run and recorded a 7.58 at 198 MPH for his first run in the car.
In the second stanza, Parker was in the left lane and again left on a red light-conscious Bailey. But Bailey's quicker ET made up for his slow reaction time as he stormed through the finish line and took the stripe with ano ther 6.77 elapsed time at 198 MPH. Parker on the other hand had a faster speed of the two cars as he stopped the clocks with a 7.50 ET recorded the car's first ever 200 MPH run! So, congratulations are in order for his team.
Saturday Recap
After a lot of work by Art Mendoza who has dedicated a great deal of time in rebuilding the engine, and the Capitol crew, most notably Brent Sanford who worked nearly all week on the car and new tuner Ken Logan, the magic finally came together with one of the car's best passes ever , a 6.78 ET. The last time Bailey was in the 6.70's was at the Fall Classic back in 2006 when he also ran a 6.78 with the old car. At that time the car was tuned by both Mendoza and Jeff Lauener.
Under the watchful eye of Ken Logan, Bailey backed up the 6.78 with a 6.82 at 197 MPH. The race this past weekend serves as a tune up for the team's next big event called "Nitro Nights" in Yakima WA on the July 4th Weekend, then the big NHRA Les Schwab Challange the following week at Woodburn.
Blake McCracken our Special Crewman of the Race
Blake McCracken, who is going in this week for heart surgery, was our crewman of the race. Blake got to ride with team member Brent Sanford to get the car and received a Cap Racing shirt for all of his help. Blake is a big fan of the Capitol team and we want to request some prayers going his way for a speedy recovery!
Nitro Shortage Shorts Local Driver
Jeff Marsh has Transmission Holding up to Extreme Six Second Performance
It's no secrete that the Capitol car had been struggling in the past year. It seemed that while engine problems were beginning to be a thing of the past, last year's consistent fly in the ointment was the transmission. Often transmissions won't hold up to the torque produced by a blown alcohol dragster without a clutch or "Lencodrive". For Bailey it didn't seem to matter when his Powerglide was serviced, the transmission always failed at the wrong time. There was the Lucas Oil event at Woodburn, then it was the Halloween Classic in Boise when the car would not hold at the line after qualifying on the pole.

Transmission problems continued to haunt the team at nearly every other race. Finally, after a very embarrassing night in Medford, Bailey told crew chief Jeff Lauener that a change was in order. "We actually brought in a funny car all the way from Montana to match race us. I was trying to put together a pro comp series and was trying my best to put on a good show for both the crowd and the track promoter in order to get a new series going. Instead, I red lit on every pass because the transmission reacted like it did in Boise and would not hold at the starting line. I told Jeff the next morning at the hotel that this was getting expensive every time the transmission failed, and it also wasted all the money it took to compete at the race and made us look bad."
Lauener agreed and suggested that he would talk to one of his customers. The "customer" turned out to be Jeff Marsh owner of Canby Transmission. Marsh offered to not only sorted out the current transmission problem but sponsored the car as well. Marsh found blocked passages in the valve body and made some other slight adjustments. The result has been a relatively trouble free transmission ever since. The team also began draining the fluid between rounds to cool it down faster. After last weekend's race the pan was pulled and there was no sign of clutch material and the fluid didn't smell burnt.

The biggest reminder however that the transmission is doing it's job came in a phone conversation with Competition Printing's Jim Young who was impressed with the car's 6.77 performance over the weekend. Young thought that perhaps a different transmission such as a "Bruno" or a "Lencodrive" was used. Jim said you aren't still using that transmission built at a local shop are you? When I told him I was, he said Wow! He could not believe a Powerglide could sustain that low an of an ET for four straight runs and not be hurt" Bailey said.

Young was not the only one. Art Mendoza who builds the teams engine was surprised the converter works as well as it does. "He thought we needed a top name converter and that what we had wouldn't hold up" He admitted to be proven wrong on that one. I told Art that I needed to trust my transmission man just like I trusted him building the engine" Bailey said.

Marsh, a drag bike racer, is pleased with Bailey's renewed performance and hopes the car will serve as a proving ground for his work. "there are a lot of great race transmission builders in the area including Don Kalina of Albany that racers are partial to. And regardless of who builds them, transmissions will occasionally break. But Jeff has really gone the extra mile for us in doing the research and coming up with a transmission that is as close to bullet proof as possible, as long as the team stays on top of it" Bailey said. Marsh's involvement and time invested in the transmission is the other half of the story behind the Capitol team's excellent performance last weekend.

First Look at Twig Ziegler's New Pizza Haven Car
Here is the first look at the long awaited Pizza Haven Satellite Funny Car driven by Twig Ziegler (pictured with the car). The paint was done by Joe Miller who did a great job recreating the legendary car! Joe reports that the Pizza Haven car and his ex-Kenney Goodell car will be on display at the Oldie but Goodie race at Woodburn. Hopefully we'll see this beauty make it down the Woodburn track some time this year!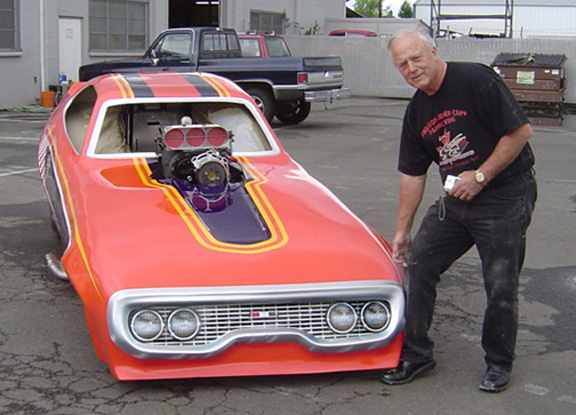 Night of Fire Car Show Rescheduled for July 18
Due to the unseasonably cold rainy weather, the Night of Fire has been rescheduled for July 18. The only draw back is that this is the same weekend as the National Event in Seattle and the Art Fair. Even so, based on all the calls we received over the last two days I think the event will still be a big hit as long as the weather's good.

Bailey's Seattle Crash on TV's "Most Daring"
There has been talk that Rich Bailey's crash last year in Seattle was filmed and on a newscast as people claimed to have seen it that were not there. Now comes word that the crash was aired on the nationally syndicated television show "Most Daring". A fan came by the pit discussing the crash when Bailey thought he was referring to the "Wheels of Speed" movie aired locally. It turned out it the kid was talking about the popular television show. If you are going to crash might as well make it spectacular and get on TV.
Capitol Car Displayed at Keizer Fire Station
The newly designed Capitol car was on display at the Keizer Fire Station for their annual open house on Monday night , May 19. Still without lettering, the car looked great and it recieved a lot of interest from those that attended the event. The car will be lettered prior to the Night of Fire.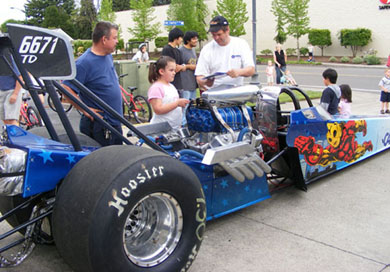 Evergreen Home Loans Track Report by Rich Bailey
Capitol Team Digs Deep to Make Race
Go to any national event and hang around until qualifying is over and you will see highly paid professional teams working late into the night to get their car ready for race day. Some times they get done early in the evening but often times the hard work on the car goes on until 2AM! There's never an excuse to miss an event if the team has a title sponsor. On Friday, the Capitol team got a taste of that life as it was critical not to miss the Season Opener at Woodburn.
Just a week ago it was doubtful the team would make the race after an engine went too lean in testing at the worst possible time. I had already committed to painting the car in the Capitol colors and then having it ready for Show Biz a week later. That meant the engine work could not begin until after Show Biz which left us another short deadline of one week to get the car rebuilt and ready to go before the Opener.

Sure enough, on Friday afternoon prior to the race it all came together. There were tires to pick up from Hillyer Tire and Wheel, there were freshly painted panels to pick up from Dennis Lafferty's paint shop, Capitol logos had to be pickup at Supervinyl, there were t-shirts ready at 4 PM and last minutes parts to be pick up from Performance, all on opposite ends of town! Most importantly, Art Mendoza just finished the engine and delivered it to Rick Stice's shop at 5 PM. Brent Sanford did a great job driving around town and picking up everything that was on the long list.
By 6 PM everything was unloaded and we were dropping in the engine. By midnight the car was nearly ready to be loaded in the trailer. Finally, the goal was reached as the Capitol truck and trailer rolled into the gates of Woodburn Dragstrip as promised.

After more scrambling in the pits, during a heat wave with temperatures reaching close to 100 degrees, the Capitol car made it's first pass, a 7.85. While not a great pass, it was a symbolic run as not only did we make the field but we made the race and got down the track after two weeks of hard work and a lot of dedication. Thanks to Art Mendoza, Rick Stice, Brent Sandford, our painter Dennis Lafferty, and Mark Adams from Supervinyl, for their giving of their talent and hard work. These guys made it possible for me to get down the track today. Had we not had their dedication involved with our team, we wouldn't even be spinning our wheels.

UPDATE: The Capitol car improved on Sunday to a 7.35 ET. In the first round, we dialed a 7.30 before racing David Chun of Vancouver. Unfortunately, I went on the wrong side of a perfect light by 0001 thousands of a second. At the top end the car recorded a 7.26 which was a great run but we broke out anyway. Still a good weekend considering what it took to make it happen and we saw a lot of our great friends who often visit this site and always stop by our pit!

Capitol Dragster Debuts at Show Biz with New Paint Scheme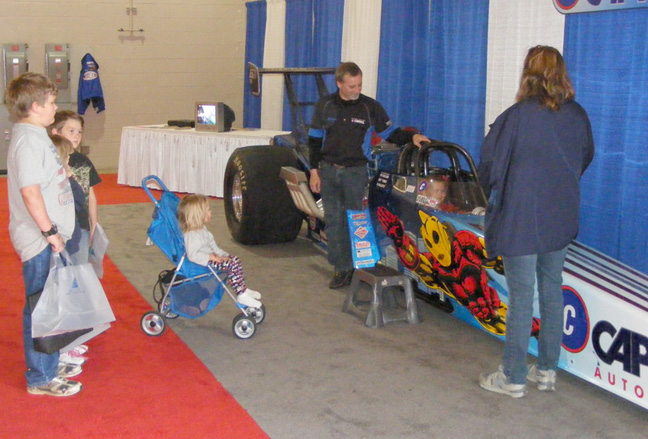 With the paint barely dry, the Capitol Auto Group Dragster sported a new paint scheme at Show Biz to rave reviews from show patrons. People that have seen the car before liked the clean new design while people who have never seen it before were equally impressed. The car arrived at the show without the body panels on the car as the new paint job was completed in the nick of time!

Rich Bailey along with the help of Dave Lee and Ian from Color Tile and 1430 KYKN's Jeff Morgan helped put the car together at a moments notice. Just minutes after the car was done the stress level went to zero and Bailey did a TV and radio interview where the car received even more acclaim from the onair personalities. While not a well guarded secerate, Bailey wanted to keep the new design under wraps until its debut at Show Biz. Dennis Lafferty did a great job working around obstacles to get the pearl blue and white design completed by Showbiz and Mark Adams of Supervinyl did a fantastic job coming up with the lettering.

The reason the car was repainted was to restore Capitol Auto Group's corporate identity. The Rocketeer's original paint job while beautiful was too busy as Capitol's clean look was lost in the car's original Rocketeer design. Special thanks to everyone that helped and to meet our goal of getting the car finished by Show Biz and thanks to Todd Martin for helping with the load and unload.


Gaines Markely YouTube Tribute
The family of Gaines Markley requested that I link to a slide show tribute of his life on YouTube. So here it is: http://www.youtube.com/watch?v=G1zZr_1GhTk
Gaines, who wrenched Rob Briuns to the 1979 NHRA Winston World Championship died after a lengthly illness in a Seattle area hospital. Markley was well respected and a great driver in his own right. He is in the same class as Ernie Hall in our opinion.
Cap Racing Track Report by Rich Bailey
Season Starts Off with a BANG!
It was a great day for racing and sorting out the car after an extended winter. I arrived at the track at 8 AM and was ready to go. After doing some maintanance, it was time to make the first pass of the year and we set the car up after a pass we made last season under similar conditions.

After a healthy burnout I staged the car and all indications was that it would be a good run and I was planning to go for it. At the hit the car shook really hard probably because of to much air pressure in the tires. Granted I should have got out of it then but the shake cleared up so I stayed in it. I got about 3'/4 down track and BANG! The burst panel went! As that happened the car kept running as the broken blower belt likely kept the throttle partly open even after getting of the throttle, I then pulled the chutes out and was looking for the mag kill switch (as it's nearly under my leg), anything to shut the car down, it just kept running and was a little out of shape all at the same time! Finally, I got it shut down and stopped before I ran out of race track! And the ET? It still ran a 7.27 after all that.
When we got back to the pit there were no signs of any major damage and we had the parts to fix what did break. After a lot of work looking for possible problems, we tried firing the engine at the end of the day but it wouldn't fire. We did a compression test and found no compression on the no. 1 cylinder. So, we removed both heads after already rebuilding the top end and checking the bottom end of the engine.
After the heads were removed, Rick Stice and I discovered that the engine was firing cross ways between the no,1 and 3 cylinders. The car wasn't too lean as we had a 125 pill in it but we were still on the ragged edge. We actually got off fairly easy as the heads just need to be decked and we need to replace the head gaskets that got torched. Two pistons were cracked so I found a set of pistons in Pennsylvania that we were able to buy rather than wait 5-6 weeks to get a new set.
It was a lot of work and Rick and I worked late into the evening in order to diagnose the problem. We also decided before we run the car again that we will add a kill switch on the steering wheel where I can easily see it in the event something like that happens again. We also need to work on the chute cables. The only bad thing is that I don't know if we will make the Independence event but that's the chance you take with these high horse power blown alcohol cars. It was a very difficult day but it could have turned out a whole lot worse. A big thanks to Rick, Jason Stowell and Ken Logan for all their hard work.
Lafferty Paints a Cool Helmet
Each year we try and make improvements as budget allows including an item or two that isn't 100 percent necissary to run the car. This year, Dennis Lafferty of Salem painted my helmet. Dennis, who is loaded with talent, is originally from New Zealand and has been painting for a lot of years. The helmet came out so cool that I want to paint the whole car to match! We'll have to wait and see on that one.

Cold Wet Weather Nixes Tulip Festival Test Session
The latest weather forecast for Saturday and Sunday predicts record cold wet weather with highs in the 40's. As a consequence, Capitol Racing's return to action will have to wait until next weekend.

The car is ready to race and it started right up when we put the juice to it on Thursday evening. But racing in temperatures below 50 degrees are dangerous for high horsepower cars as we learned in Seattle last April. Also, a lot of money and time is wasted driving to the track, paying entry fees, only to do nothing but wait around for maybe a slight chance at making a pass sometime during the day. Since they are not racing our class, this would be a test session anyway and rather than fight the weather and muddy pits we will wait for a better day.

Funny Car Fever a Hit
Over 5,000 plus fans packed Sacramento Raceway for Funny car Fever, the first nitro funny car show there in years. By all accounts the race was a big success and proves that the nostalgia funny cars might just save nitro funny car match racing which is nearly extinct due to the high operating costs that most promoters can no longer afford to pay. Kris Kabill in Gary Turner's "Pedaler" ran a 6.06 to beat Bucky Austin, who smoked the tires. After this race, Lee Paul Jennings who promoted the show could run for Mayor of Sacramento and win!
Hegge Returns in A/Fuel
Local fans will be glad to know that there will be yet another A/Fuel car in the area! Vancouver's Doug Hegge quit Top Comp but said he would be back in A/Fuel. Keeping his word, he showed up in Vegas last weekend. Even though the team didn't qualify he still ran a respectable 5.89 at 254 MPH for his first outing. Not bad at all for the first time out!

Spokane Track Saved!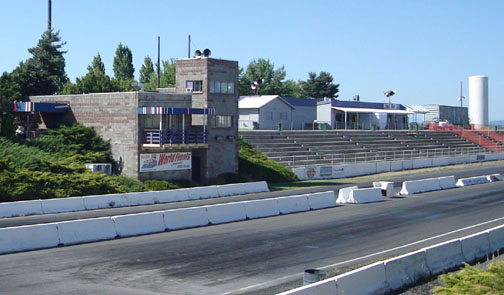 Craig Wilcox passed on some great news that the Spokane Raceway Park was purchased by the County and will remain a dragstrip. The track was purchased for only 3 .4 m illion, a much lower dollar figure then the 34 million plus that it was originally assessed for. Talk already is beginning to surface about track improvements. Now, the big question is what happens next? Bucky Austin as the promoter? An IHRA national event? Stay tuned!
Jim Rockstad's Column Now on Cap Racing!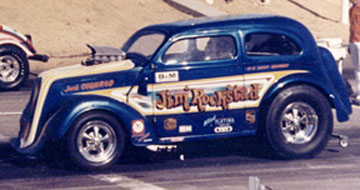 Capracing.com is proud to introduce our first columnist, Jim Rockstad, the former President of International Raceway Parks! Read the first of many on-going stories about Jim's career as a racer turned promoter, who staged some of the biggest drag races in the country including 64 funny cars in Seattle. Thunder in the Pipes is an exclusive column written for the readers of this web site. To read the first installment, please scroll below.

The Night of Fire Planned for 08 Featuring a Jet Fire Show
Whether we planned on this or not, the Night of Fire has grown into an annual summer event for Salem area car lovers. Part of the fun of putting on this event is the challenge of planning it in only a few months prior to the event and making it a success. So far that has happened with the support of the public, sponsors, racers, car clubs and of course the weather. As a result, over $40,000 has been raised for people in need. The success of these events can be partly attributed to both Richard Smith and Daren Bay for agreeing to doing these events, as this is the only place besides an air show or drag race where you can see a jet car in action.
This year, Mike Adams, brought to our attention a young Salem area man that has cancer but no health insurance. He recently got married and then within a few months felt a growing lump on his neck before finding out it was cancerous. As always, we will do all we can to help him out by providing as much money as we can possibly raise during this annual Friday night spectacle.

Richard Smith and his Warhawk Jet has already committed to doing his spectacular fire show. Gary Eickmann and the Black Pearl will also be there pending on the date we select. The Date of the show will depend on when The Warhawk is available since the jet funny car is the center piece of the show. Learning from an incident in Selmer TN, we will be much more strict concerning crown control prior to the jet show and will have the area completely blocked and roped off. We will work closely with the city and Marion County Sheriffs office.

If you have never been to the Night of Fire, please make it a priority this year, it's always a great event and there's no other car show like it. The event will be where it was last year, in the Salem Evangelical Event Center parking lot on North Liberty. The date will soon be announced. As always admission is free.
Evergreen Home Loans Returns as an Associate Sponsor for 2008
ProMotion Motorsports welcomes the return of Evergreen Home Loans as an associate sponsor. Evergreen came on board last year through Salem Loan Officer Vince Ventura. The Capitol Racing Team has enjoyed a great relationship with them ever since. "Even with a very volatile housing market, Evergreen's support of our racing team is a testament to our exiting marketing program that reaches into the community. We want to reward their decision with as much exposure as we can possibly generate for them. Last year we had a strong marketing presence and they took notice." said team owner Rich Bailey.

Unlike a lot of home loan companies that are struggling, Evergreen 's business is taking off thanks to good customer service, through the leadership of CEO Don Burton. The Seattle area company has just opened two new branches in Texas and are aiming for another banner year in 2008.

People looking to refinance or get a new mortgage through a strong lender should look no further than Evergreen Home Loans located on Hawthorne and State St. in Salem, near I-5. Evergreen also has branches in Medford, Spokane, Boise, Seattle and Yakama.

Cap Racing Exclusive!
NHRA National Open Officially on Portland Int'l Raceway Schedule
This shouldn't be said too loud so the neighbors and lawyers don't mobilize to soon but NHRA Championship Drag Racing returns to Portland in the form of an NHRA National Open on August 22, 23, 24.

A call to PIR track manager Mark Wiggington confirmed that the race will happen as the noise variance has been granted. The only string attached is that none of the NHRA classes may exceed 115 DB. This may be a problem for the blown alcohol cars including the Capitol team. When asked what would happen if a car went over the noise limit, Wiggington said that the race team would get their entry fee back along with an apology. But he added that noise measurements were taken at Pomona and Tucson and they didn't expect any problems with cars exceeding those measurements.
When told about the noise limitations, NHRA Division Director, Jonathan Adams said he would work with the track to see if an exception could be made for the few cars that may exceed the limit. As a comparison, a lawn mower can reach 115 DB according to an audio source on the internet, but according to PIR 115 DB is about the noise level a Pro Stock car puts out. If that is the case and the city sticks to their guns, a few teams will get apologies and refunds. The noise variance was granted as a result of the LaMons Series and Champ Car thankfully pulling out of Portland.

PIR management is going to make every effort to work with the neighbors so that the blown cars which are on the borderline can still be able to compete in the National Open. There will be a PIR noise board meeting in the next couple of weeks. We should know more at that time about what exceptions can be made. Also, noise measurements will be taken by PIR at a Woodburn event to see if there is even a problem at all with the Top Dragster cars.

The good news is that PIR really wants to bring back drag racing and they are working on solutions to do just that including the addition of a concrete stadium seating area that would also serve as noise barriers. Garages would be built under the grandstands and rented out which would pay for the noise enhansement improvements.

Foley Lands a Deal for Gainesville
On the eve of the 2008 season, Doug Foley's sponsor, Torco Race Fuels, chose to take a "sabbatical" and not sponsor any cars in 2008. One of the teams that got hit the hardest by the news was Doug Foley Racing out of New Jersey who was promised a full season sponsorship last fall. Foley, one of professional racing's most stand up guys, had to lay people off and do what ever he could to survive on such a short notice. Rather than take the news laying down, Foley went into action to try and secure some one-race deals in hope of salvaging at least part of the season and keep his Top Fuel team intact.





One of the the companies he turned too for help was ProMotion Motorsports Design who did several renderings of his car for different marketing programs. Some of the renderings had to be done overnight so they could be on a CEO's desk the next day. Foley's determination paid off today as one of the companies he was working with, FX Caprara KIA, has agreed to sponsor him for the Gatornationals race in Gainesville next week. Foley credits a lot of people for stepping up to make this happen including ProMotion Motorsports. Foley is not the only pro team as ProMotion Motorsports has also been working with JB Motorsports Nitro Funny Car on some overnight jobs.

In addition to renderings, ProMotion does websites, race reporting, handout cards, and proposals. Recent customers for various services include: Jim Head (Powerade funny car) Tuttle Motorsports (Top Fuel) Craig Smith (Top Fuel) Jam Air Racing (Alcohol funny car) Duane Shields (A/Fuel) Clint Thompson (Top Alcohol funny car) Parker Racing (Top Alcohol) and Shawn Cowie (Top Alcohol Dragster). ProMotion is also branching out into commercial businesses and just completed a site for Arroyo Homes LLC. ProMotion Motorsports is owned by Rich Bailey and can be reached at 503-370-9164.


Cap Racing Welcome Brian Queen
Capitol Auto Group Racing welcomes Brian Queen to the race team. Brian is a mechanical engineering graduate from America Automotive Institute in Phoenix and brings the skill and knowledge ne cessary to help make the race team successful this season. Brian is also a big fan of drag racing and has the desire to learn what ever he can about racing mechanics in addition to being focused and analytical.

Team owner Rich Bailey looks at Brian as a good fit for Capitol Racing both now and in the future. "Brian is a great addition to our team as he has both the mechanical knowlege and patience necissary to do well in drag racing, he also does a good job representing our sponsors. My plan is to get Brian as much training as I can so he can do every job on the car." Brian actually got involved with the team beginning with doing some car displays and the Christmas parade, but Bailey quickly realized that Brian's skills would be better utilized on the crew when there was an opening. "At the time I met Brian we had a full crew but that all changed so I was able put him where he needs to be." Bailey said. Currently, Brian is helping in getting the car ready for the 2008 season which is a chore he really enjoys doing. "This is something I always wanted to do and so far it's been a lot of fun" Brian said.

Brian is married to wife Janet and has three daughters. Ironiclly, Janet works with Bailey's wife Susan in Girl Scouts which was unknown at the time when Rich and Brian were having conversations about joining the team in some capacity. "Brian's kids and my kids all go to the same school, we both work for the same employer and our wives are co-leaders in the same Girl Scouts troop so we have a lot more in common besides drag racing." Bailey said.

An Explosion of Flavor Experienced at Adam's Rib Smokehouse
We'll admit that we're a bit biased here at Capitol Racing but few will argue that in addition to their out standing BBQ menu, Adam's Rib has the BEST BURGERS IN SALEM. Just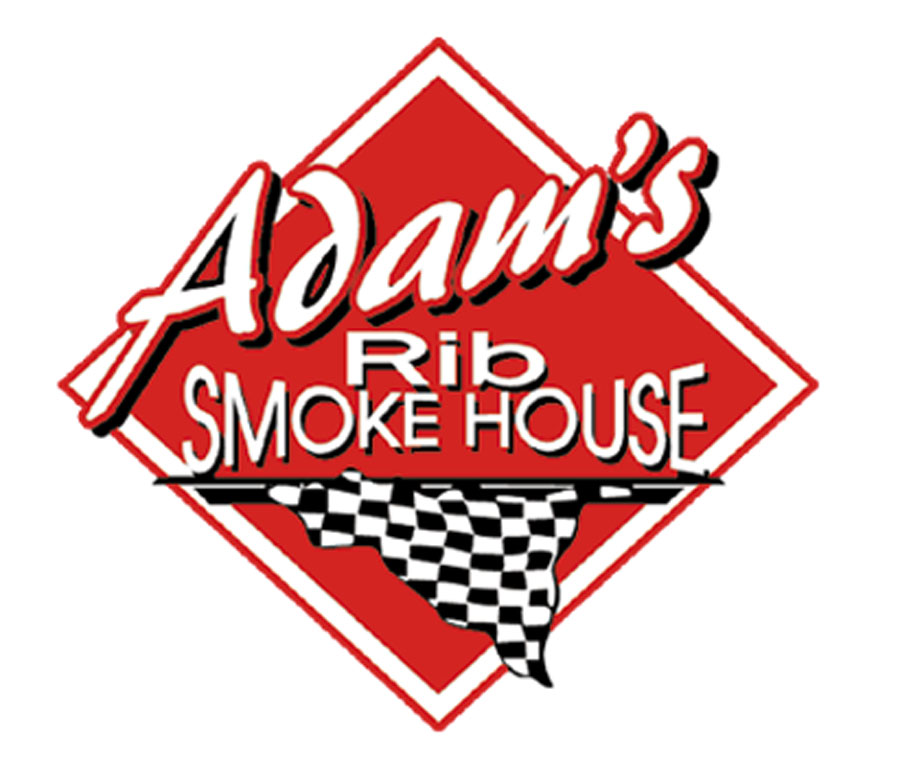 when you think it couldn't get any better with the Kentucky Bourbon Burger, now comes their new Steakhouse Burger. The first bite of the Steakhouse Burger is an explosion of flavor that one might not be use too! Give it a try and you'll know why! It's a supercharged burger on nitro and when you include their incredible homemade fries it's a meal that will make it to the winner's circle. If it's not on the menu Mike encourages you to ask for it by name.
Adam's Rib is located on the corner of State and 12th Street near Willamette University in Salem, dine in or take out.

Jeff Lauener Update
Our crew chief Jeff Lauener continues to make progress as he recovers from a massive stroke. The good news is that he's now out of the hospital and is doing therapy on an out-patient basis. He can get around with a cane. Thanks again for everyone that helped with his recovery by participating in the Winter Rod and Speed Show.

Nostalgia will Just Have to Wait
Since we are having a difficult time attracting a buyer for the Rocketeer car, the nostalgia program is on hold for a while. This was just an exploratory exercise anyway, and while the pros still out weigh the cons of going nostalgia racing, the Capitol Rocketeer Dragster is a very nice car and we haven't even had it a full season yet. The Rocketer 's marketing potential has also yet to be completely realized or reached the point of over-saturation.

There was a rumor that we had already bought a front engine car. While we had a specific car in mind it was pending that we sell our's first and right now we are light years away from finding a buyer. Apparently things are moving slow right now, yet my racing business has been thriving lately.
Now that the car shows are over, we will begin getting the car ready for action starting this weekend. We'll have more team news soon including welcoming a new crew member and a former crew member returning to the fold as needed.

Capitol Car wins class at Portland Rod and Custom Show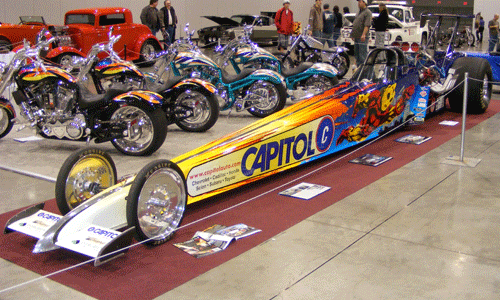 The Capitol Auto Group Dragster was at the well-publicized Portland Rod and Custom Show this past weekend at the Portland Expo Center. The attendance was fairly good in spite of the good weather and the Capitol car won it's class. Thanks to Jason Stowl, Brian Queen and Todd Martin for their help.

Encouraging Spokane News
Two new groups are looking to bid on Spokane and keep it a race track. One is headed by a prominent northwest racer and the other is reportably a group that would make it an IHRA facility. Lets hope that one of these groups get it.

Nitro Night at Yakama
Derrick Snelson called and said that his Nitro Night race in Yakama is gaining momentum with as many as four nitro funny cars, a complete Pro Comp class and ProMod Shoot out. On Friday, there will be a Competitor's Salmon BBQ. Also, Jerry "the King" Ruth will be the Grand Marshal of the event. If that's not enough there will be 1000.00 ET Bracket Shoot out!
64 Funny Cars on DRO!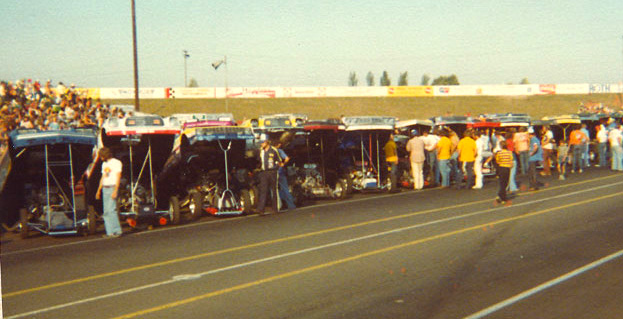 Move over Dean Papadeaz, there's yet a new feature on DRAG RACING ONLINE. 64 Funny Cars! Jim Rockstad has a new column where he talks about the promtor biz and the mega funny car shows in Portland and Seattle during the wild 70's. See some cool photos from that era HERE

Shields wins Winternationals
Duane Shields won the NHRA Winternationals by gunning down popular Northwest standout Joey Severance in the final. Severance, left to early which gave the win to Shields who was running consistantly well throughout the event. In Top Alcohol Funny Car, Eugene's Brian Hough scored a runner up finish as he was unable to stop Frank Manzo who was light years ahead of the entire funny car field. Clint Thompson lost in the first round.

Is Capitol Racing Getting a Little Nostalgic?
Maybe. In search of a level playing field where electronics don't decide races, a reasonable pay out, actually racing other BLOWN dragsters, and a schedule where we are racing in the summer and not having to take most of July and August off, the Capitol car may have the engine relocated in front of the driver rather than behind the driver.

With the blessings of our sponsors we have decided to run this idea up the flag pole and see where it gose. The response has been overwellmingly positive that this is a good move. As long as we can sell our current car in the next sixty days we will be switching classes and moving to Pro Nostalgia. This will give us six races at Woodburn plus a couple of events in Washington and Medford. Plus, we can still race NHRA if we choose too. In Pro Nostalgia, you can race front engine dragster, nostalgia funny cars and alterds. If this deal comes together we will be racing a top fuel style car with a tall body. The promotional events that we do will not change.

It really pains me to put the Rocketeer car on the market but unless we have a few more blown alcohol events similar to what Spokane was offering, there's no reason to run the car when you have no class to run it in other than Top Dragster. Sadly, NHRA's Top Dragster class has become a Super Comp affair. The electronics have followed their way into Top Dragster and the field is almost an all-run affair as qualifying isn't nearly as important as it once was since they enlarged the field from 48 to 64 cars. In the meantime, there are very few blown cars left in the class.
Unfortunately, given the current situation, I tried for two years to get a Pro Comp class together but nobody seemed interested. I even put together a couple of match races to gin up the interest and keep us racing. When you're having to book your own races just to keep racing your in trouble. Meanwhile, there is a whole group of racers doing exactly what I want to do but the only catch is I can't race a rear engine car in the class, so I have resisted untill now. It's time to start going some rounds and having some fun again.

Winter Speed Show now on DVD
George Adams has put together a DVD of the Winter Rod and Speed Show. If you missed the show or would like to relive the event, contact Geroge Adams directly from his website at www.nwdragracing.com or Contact us and we'll forward your request on to him.
Spokane is Up for Auction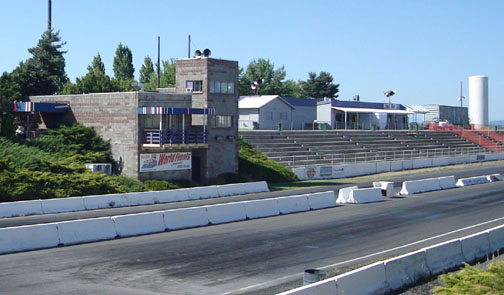 A judge in Spokane County has cleared the way for the facility to go up for auction in less than 90 days. Who ever is the highest bidder will control the future of the property. There are both villians and heros in this saga. The heros are believe it or not the county that have expressed interest in keeping the track operational while using the other part of the land as a prison. The villans are the indians that own a near by casino. They want to put in a golf course as if there are not enough of those around already. There is an effort to organize a group to save this track and we will pass along informaiton as it becomes available.

Flamboyant Papadeas ''The Director" Teams up with DRO's Jeff Burk!
DRAG RACING ONLINE publisher Jeff Burk is partnering with Main Event Video CEO Dean "The Director" Papadeas to sell DVDs from Main Event's in-depth library of drag racing videos. A flamboyant and talented New Yorker, Papadeas produced and directed some of the best and most successful videos in drag racing history. Burk and Papadeas recently agreed on a marketing partnership that gives Racing Net Source the exclusive rights to sell DVD's of the complete 50 short films in the Main Event library. If you love nitro racing under the lights these videos are for you.
DRO has developed a new video sect ion to showcase videos including 2-3 minute previews of selected videos. The Papadeas videos are cut to a DVD directly from the master and are available on DVD for the first time.
The always controversial Papadeas is back on the drag racing scene after recovering from a bad car accident. "Love him or hate him -- and I have done both -- Dean is arguably the best ever in making drag racing short films that capture the visceral quality of the sport," says Burk, "and I'm glad to be doing business with him again ­ so far." Some racing insiders may recall a few years ago when there was a half hearted attempt to nominate Papadeas as the President of PRO. While the effort didn't get far it made Papadeas the center of attention for a day or two. For more info go to www.dragracingonline .com
Jam-Air Unveils New Sponsor
Today at the historic Marconi Automotive Museum, EMCOR Service/Mesa Energy Systems Inc, the leader in HVAC services throughout California announced that they have reached an agreement to become primary sponsor of the Jam-Air Motorsports Alcohol Funny Car team with driver Will Martin for the 2008 Season.
"Today marks the beginning of an exciting year for EMCOR Service/Mesa Energy Systems. I started Mesa Energy 25 years ago in a borrowed garage. Today we are the largest HVAC Services provider in California and are quickly becoming the premier Energy Solutions provider" said Senior Vice President & founder Charles Fletcher.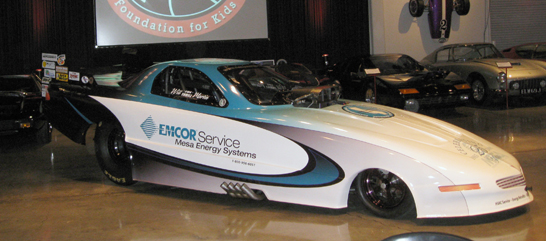 EMCOR Service/Mesa Energy Systems is head quartered in Irvine, CA and is a wholly owned subsidiary of EMCOR. Mesa Energy Systems Inc employs over 430 people throughout 10 offices in California. EMCOR Service/Mesa Energy Systems Inc. is a full service HVAC contractor. Whether it is a light commercial package unit, a large chilled water system, or an energy retrofit for energy efficiency, Mesa Energy Systems continues to exceed their customer's expectations.
"This is a great day for our team. I am very proud to represent EMCOR Service/Mesa Energy Systems Inc. It is different not seeing the customary orange & black on the car however it is a much welcomed change. Rich Bailey at ProMotion Motorsports Design & Ralph Love & Brian Mundy at Photomation did an incredible job in only 14 days to get the car where it is today. I also can't thank Bob Lake & Charles Fletcher enough for this opportunity as well as my dad, John Martin who founded the team back in 1980" said driver Will Martin
The Jam-Air Motorsports team will once again compete on the California Independent Funny Car Association (CIFCA) tour this year and looks to improve on the 8th place finish from last season. "We learned a lot last year and have all the parts & pieces in place to make a full out assault on the championship this year" said Will Martin. The Jam-Air team will also continue to receive support from Photomation, DJ Safety, Pro Manufacturing & GS 610 Brake products in 2008.
Winter Rod and Speed Show Set for 09
ProMotion Motorsports has secured a future date for the Winter Rod and Speed Show so it will return next year. The date for 09 will be January 17-18 at the Linn County Fairgrounds and in the same building. We could have got the maim building but it was to close to the other show and we didn't want the overlap in advertising and promotion. While it's to early to talk about entries, we would like to encourage everyone to return in 2009.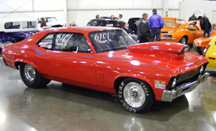 Car Show Pics Now Up
Here are a few selected pictures from the Winter Rod and Speed Show from the links below:
Album1
Album2

Nitro Racing Returns to Yakima
A pair of Nitro Funny cars will be battling it out under the lights at Renegade Raceway July 4-5. The event will also feature a contingent of blown alcohol cars (dragsters, funny cars, alterds) in a ProComp showdown including the Capitol car. Also on the bill are some pro mods and the usual bracket classes. The Pro Comp class is heads-up with no-breakout and no BS which is the way it should be done and what the fans expect. Any alcohol racers interested in being a part of the show can email us and we'll pass it on to Derick Snelson who's promoting the show. The event is being presented by realdragracers.com

Cool Drag Racing Calendars
Everyone needs a calender and we're proud to say the Capitol car is on it for February along with several other alcohol cars and jets! Go to www.realdragracers.com today to order yours!
Commentary by Rich Bailey
Bla ck Tuesday Hits Drag Racing
If the New York Stock Exchange's initials were NHRA or IHRA we would all be talking about a crash or a correction. On Tuesday, Torco Race Fuels who at one point was giving away sponsorships like they were candy abruptly announced they were pulling the plug on all sponsorships including teams owned by Evan Knoll, the owner of the company. The sudden announcement left over two dozen teams suddenly without a sponsor just as the new season is set to begin. In addition, Bob Gilbertson lost his deal with Honeywell. Then there are a half dozen more that were lost at the end of last season.

Why teams weren't notified in September by Knoll's management team is anyone's guess although the reason given is Mr. Knoll's lingering health problems among a few other things including the economy. Mr. Knoll's absences from the track in past years never seemed to be an issue as he had a gentleman who claimed to be his "eyes and ears at the track" managing all of his teams. Why the race program all of the sudden can't run without Knoll remains to be seen. But the Knoll Gas program was an easy come - easy go handshake operation that ended as abruptly as it started.

Last season, it seemed that new sponsorships were announced on a daily basis between December and February. All this without the company having anything on the retail shelves nationally to sell. In fact, one couldn't help but wonder if the products they did have were created as an excuse to sponsor more cars. But it didn't matter as they "we're out there to have fun" according to an individual who managed the teams at the track for the company. We've seen companies like this come and go before. But usually one team gets burned not half of the pro and alcohol pits. Torco says they are just taking a "break" but if you believe that I have a dragstrip in North Korea to sell you.

One could tell that not everything was going well at Torco towards the end of the year. They talked about boycotting NHRA for a race or two because his teams weren't getting enough publicity. Then their house organ Competition Plus published a press release saying that Knoll was shopping his sponsor dollars around at NASCAR. Then they announced they were buying even more Top Fuel teams and would own a total of five Top Fuel teams this year on top of everything else. In additon, a couple of new funny car and pro mod sponsorships were announced just last month. Then they abruptly decided not to purchase one of the teams Just prior to Pomona after it was mentioned on Comp Plus that they were.
And then on Tuesday just days before testing was to begin word came down that all Knoll race sponsorships would be suspended for the 2008 season. This left the likes of Gary Densham, Doug Foley, Mike Ashley, Melanie Troxell, Clay Millican and so many others without financial help for the 08 season. This also puts crew people and support personel in quite a pickle. It all ended just as quickly as it started. The unsustainable party was finally over.

Winter Rod & Speed Show Successful as Show Nets $6,617 for Family!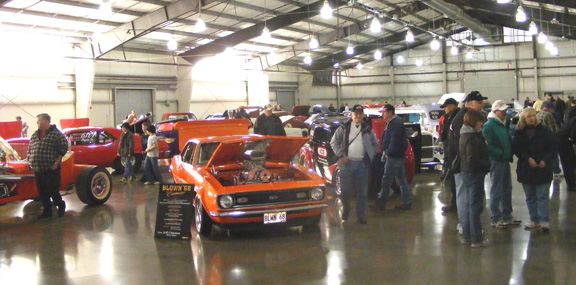 The big question asked at the Winter Rod and Speed Show was "will you do it again next year?" The answer is YES! Once again a show put on by the Jim Billings-Mike Adams-Rich Bailey gang was a big hit. Over 600 spectators came through the door during the one day event for Capitol crew chief Jeff Lauener and well over $5,000 was raised on Saturday alone. That doesn't take into account sponsor s and car entries. The total gross was $8,358.00 leaving the Laueners with $6,617.25 after expences. That number could go up as there are still a couple of pledges that have not been paid.
Crummy sometimes snowy weather didn't seem to stop people from coming through the doors. Between the hours of 11 and 2 the place was packed. We were warned that other indoor shows in Albany have failed or barely broke even in the past. But it's likely that past shows were not promoted or marketed correctly. Our media partner KYKN in Salem did a great job promoting the event. In fact, of two people I asked, they both told me they heard about the show on KYKN. The Albany Democrat Herald also did a good job covering the event and the two ads that we bought from them surely helped the gate. We did everything we could to make it an easy and affordable show for people to see and it paid off in spades. Coupons and low prices worked as we gave away coupons at all NAPA stores.
As far as the show itself, we had 100 percent turn out of the cars that pre-entered and then some. The quality of cars were very impressive too from the "Shock n Awe" Pacer that won our "Bad to the Bone" award to Gregg Lawerence's A/Fuel dragster, it was a good assortment of first class cars. We were able to jam 53 cars into the building and there was plenty for people to see and do. The NASCAR simulator rocked as our good friend Richard Smith brought it to the show . The look on people's faces surrounding the simulator was priceless every time someone drove the real life cup car. As usual, the event was full of donated prizes and the silent auction netted over $1000.00. The model car show was also a hit as we had over 35 entries.
At the end of the show, we surprised Jim Billings with a special plaque in recognition of his positive impact on hot rodding in the Willamette Valley. The plaque listed all of the Salem area car clubs. Jim was deeply touched by the honor as it was a great way to wrap up a perfect show. Thanks to everyone that showed up and made this event so successful. Also thanks to Cindy Cocklin, Lawerence and Therisa Burns, Michael, Russ Stromyere, Todd Martin, Brian Queen, Greg Ashwell and Mike our security man, for all of their help.
Sponsors
Ed's Auto Electric, Executive Auto, Evergreen Mortgage, Mac Tools, Jim Rugg, Garys Automotive and Paint Striping, Competition Printing, Fuel Injection Ent. The Martin Family, Kelle and Son's Carpet, Tunguska Blast, Tom's Trophies, Kalitta Motorsports, Anderson Performance, Elite Window and Gutter Cleaners. Canby Transmission, Wilson's NAPA Auto Parts Stores, Sizzler Steak House, 12th Street CarQuest, Mr. Models, Proline, Chuck Stenberg Productions, nw dragracing.com, Woodburn Dragstrip, Salem Blue, War Hock Racing, South Salem Ace Hardware and Walery's Pizza.


---
Thanks from Jeff!
I would like to thank every one for supporting or sponsoring the car show. It means a lot to us and we are very relieved to get this help from everyone.

---


Film Generating Great Reviews!
Feedback is coming in from people who have viewed Chuck Stanberg's documentary "Wheels of Speed Heart of Compassion". The film centers around the Capitol Racing team and Rich Bailey's unique approach to motorsports marketing and helping out people in the community at the same time. Everyone who have seen it have
said that it's very enjoyable. In fact, Comcast has added an extra viewing in January. Also, another story about the film is in this month's issue of Salem Monthly which is available all over the area.

Comcast Broadcast Dates on
Channel 22 during December:

Sunday December 16, 7:00 PM

Friday December 21, 9:00 PM

Saturday December 22, 4:00 PM

Sunday December 23, 6:00 PM

Jeff Lauener Update
I hadn't seen Jeff since Thanksgiving day and when people would ask how he was doing, I'd say he was making slow progress which was the last I heard from folks that had seen him recently. That is until tonight. I finally had some time and the HHR was available so I went up to see Jeff and was pleasantly surprised. We had our first two-way conversation since the stroke and Jeff has made big strides since I last saw him. He even asked about the car and we began planning and discussing winter maintanance. I maybe jumping the gun with glee but I'll bet you we'll see him back at the track a lot sooner than anyone thought possible including myself. He may be home before Christmas and possibly be at the car show. So keep the prayers coming.
- Thanks Rich Bailey

Cap Racing: First the Parade, then TV!
The Capitol car received a lot of exposure Saturday night. First the car was in the PGE Festival of Lights CHRISTMAS Parade with an estimated crowd of 50,000 looking on. Then at 8:30 PM the documentary called "Wheels of Speed Heart of Compassion " about the Capitol race team, followed live coverage of the parade on the same channel (22) in Salem. To see the complete listing of air dates for the documentary, scroll down the page. This parade gets big exposure and is an important event for Capitol Auto Group.

The weather was perfect but cold in the evening which brought out a record crowd. On Sunday the car was at the Afterglow inside the Pavilion at the Oregon State Fairgrounds. A big thanks goes to Cliff's Automotive for allowing us to use his lot, the Queen family, The Grassman family, Jesse Lauener, Brent Sandford and Dan Molds for all of their help this weekend. As always, Brent was a trooper even with his broken collar bone.

Capitol Racing Welcomes Ken Logan
Capitol Racing welcomes Ken Logan as a key member of the race team. Logan, a current Bonneville racer is no stranger to drag racing as he and the late Dale Smart tuned Gary Southern to the NHRA US Nationals title in 1981. Their historic win fueled the move to screw blowers by other Top Alcohol Dragster teams shortly there after. Logan most recently worked on Clint Thompson's Top Alcohol Funny car team. Logan will loan his vast amount of tuning experience while crew chief Jeff Lauener continues to recover from a major stroke. '"Bringing in someone of Ken's caliber is a big relief to our team as it's doubtful that Jeff will be able to return any time soon although we hope that he can. We are continuing to do all we can to encourage Jeff and root for a complete recovery. Until I hear otherwise, Jeff is still a big part of our team" team owner Rich Bailey said.

Racing Documentary Completed
After six months of editing, shooting and a lot of hard work, Oregon filmmaker Chuck Stenberg has finished his documentary on the Capitol Race team called 'Wheels of Speed Heart of Compassion". Those that have already seen the film really enjoyed it. Comcast Cable in Salem will air the 60 minute documentary in December, ten different times during prime viewing hours. For those that don't have Comcast, that would like to see it, we have DVD's available for the asking . Request the film by Contact us here. It should be noted that this is Mr. Stenberg's production and was produced independently of the the race team.

See it now on YOUTUBE
The film can also be seen now on YOUTUBE at http://youtube.com/watch?v=TDEHTJrxwh0

Salemnews.com Story: See the story here
---


Ernie Hall Gone But Not Forgotten
In the 60's, 70's and early 80's anyone with the desire and decent cash flow could race a top fuel dragster regardless of sponsor dollars. In every region of the country there was a core group of these dedicated racers since you could still compete on the regional level and there was match race money to be made. In the Northwest, the core group consisted of Jerry"The King" Ruth, Herm Peterson, "Gentleman" Hank Johnson and Ron Salisbury just to name a few. But it was Ernie Hall that stayed with it the longest until untimely death in 1989. Hall had just made his quickest pass ever at the Northwest Nationals when he died of a heart attack while packing the chutes after the run.

Hall, who owned Western States Fire Apparatus, was from Cornelius Oregon and always had a clean operation. From the bright yellow and black uniforms to the car itself, he had beautiful equipment, although he raced out of a trailer that could literally fit in one of his competitor's semi. While Hall never won a national event, he came close as runner up at the 1978 Fall Nationals. But it was his upset of Don Garlits in the semifinals of the AHRA World Finals in Spokane that perhaps he was best known for. Hall, a fire truck builder also is credited for his contributions to safety. He pioneered the jaws of life and even arm restraints which every dragster racer uses today.

After Hall's death Doug Donkell bought his last dragster hoping to race it a couple times a year. Out of respect for Hall, he could never bring himself to repainted of even take Ernie's name off the car. He ended up selling the car to Stuart Styles also of Cornelius, who owned a private museum where the car sits today.
Go to this link to see a photo collection of Ernie's great career! Remembering Ernie Here!


Click on the link below for other recent stories
Archived stories from 07 Click here!