Meet the Race Team...

Rich Bailey: Driver, Team Owner
In 1997, Rich Bailey began his racing career with $12,000 and a dream. He purchased a seldom driven "slingshot" dragster and got his feet wet learning how to drive the car and how to maintain it from the car's previous owner, Doug Donkell. Besides racing, Bailey is also a motorsports artist and has worked for many of the top professional teams in drag racing. Until buying his first dragster, Bailey had done about all there was to do within the sport but drive a race car.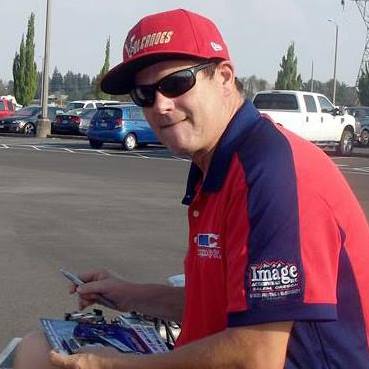 By the start of his first full season of competition, Bailey was sponsored by local radio station, KSLM and by luck picked up Royal Purple as a product sponsor after designing the paint job on Cristen Powell's Royal Purple Top Fuel Dragster. "Royal Purple was going to pay me but I asked if I could get some oil instead of money and that was one of the best choices I ever made as Royal Purple has saved us thousands of dollars in potential engine damage" Said Bailey, who has kept the sponsorship ever since.
The following season, Bailey "outgrew" his front engine car and moved to a rear engine dragster with continued backing from KSLM's sister station 1430 KYKN. For the next two years Bailey raced in the Super Comp class before signing a one year deal with Capitol Auto Group, an auto dealership headquartered in Salem, Oregon. Like Royal Purple, that one year sponsorship deal with Capitol has been extended every year since and Bailey is now celebrating 11 years with the company.
Bailey credits his dedication and emphasis on marketing as the reason for his long term success with sponsors. "On the track your fate weighs on every part in the engine and transmission working together and not failing. It's the same in marketing, you have to work together with the sponsor to keep moving ahead and do everything possible to give them as much exposure as you possibly can. You have to keep looking for any opportunity possible to make them look good. For me, it's always been marketing first and everything else comes second" said Bailey.
After a couple of year is Super Comp, Bailey moved to Top Comp where he finished ninth in the NHRA Northwest Division which wasn't too bad since there was over 80 cars that competed that year. Bailey then went blown alcohol racing and raced in the Top Dragster class before finding a home in the Pacific ProComp series. Last year, Bailey finished 5th in points and his best time with the car so far is a 6.76 at 199 MPH.

Success has never been easy for Bailey but he never gives up. "We race a very quick car on a limited budget and we do the best we can with the resources that we have. A lot of people don't realize what it takes to stay out there year after year. There are times where we got behind the eight ball but some how it all works out in the end thanks to our marketing partners, my crew chief Rick Klampe, our team members and our consultant Art Mendoza. We would have been out of business a long time ago had it not been for Art" said Bailey.
Besides racing, Bailey co-founded both the Winter Rod and Speed Show and the Night of Fire show which has raised thousands of dollars for local family's stricken with cancer or other severe diseases. "The shows are challenging at times but very rewarding and they are a blast to do" said Bailey.
Career Highlights include:

Finished third in the Blown Alcohol Thunder Drag Racing Series in 2015

Finished Second in the Blown Alcohol Thunder Drag Racing Series in 2014
Won the Inagural Blown Alcohol Thunder Series Event in Medford in 2014

Won the Night of Fire Race in Medford in 2012

Top five finish in the Top Eliminator West Series in 2010

Runner up finish at the 2010 Top Eliminator West Race in Medford
Top Ten NHRA Top Comp finish in 2000 (out of 82 cars)

Qualified on the pole at both the Fall Classic in Woodburn and the Halloween Classic in Boise Idaho in 2006. Qualified 4th for a Top Alcohol show in Spokane the same year.

Won the Oregon Top Comp Championships at Madras in 2000

Rich is a recipient of President Bush's Volunteer Service Award in 2004 and 2006 for his work with the Race Against Drugs Program.

Best ET of 6.76 @ 200 (199.9) MPH at the 2008 Governor's Cup at Sacramento.


Brent Sanford: Crew Member
Brent has been a member of the Capitol team for several years and he knows how to get it done as a result of his experience. Even though he relinquished his role as crew chief prior to Rick's arrival, he later learned he couldn't stay away and works well with everyone regardless of what needs to get done.
Richard Lytle: Crew and Displays
Richard does everything from car displays to working on the car. He loves what he does and even though he has had some health problems limited him in the past, he has gained hi health back and is doing much better which is a blessing to both his family and the team.
Keith McCurdy: Engine Builder and Consultant
After the departure of our crew chief earlier this summer, Keith McCurdy stepped up to become our engine builder and consultant. Keith has an incredible resume and it's great to have his talent and knowledge available to us.
Jeff Marsh: Transmission Builder
Jeff Marsh began rebuilding our transmission towards the end of the 2007 season after a parade of on going problems. Ever since then, the problems the team was regularly experiencing went away. Last year the team enjoyed a trouble free season. Jeff owns Canby Transmission and races a 200 MPH drag bike.




Please support the companies that continue to support us!